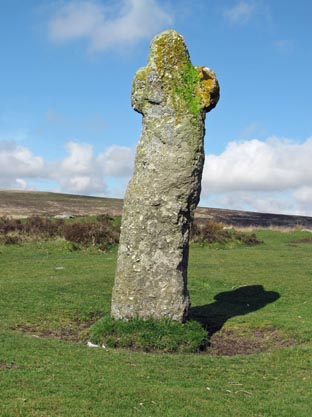 Location: Beside the B3212, Moretonhampstead to Two bridges road, about 400 yards north east of the Warren House Inn and on the opposite side of the road.

O/S Grid Ref: SX/68012/81638 Longitude/Latitude (Degrees+/-): -3.86714/50.61946

Map location: Click here to view map.

Purpose: Although the exact reason for this cross being erected is not known, it has served at least three different purposes:
Boundary Stone for the parishes of North Bovey and Chagford
Boundary Stone for the Headland Warren (WB – Warren Bounds)
Boundary marker showing the limit of the Vitifer Mine complex.
Size: 5 feet 8 inches (1.70 metres) tall. 1 foot 9 inches (0.55 metres) across the arms.
Information: That this cross is very old is borne out by the rough and rugged way it has been hewn out of a single block of granite, with a marked kink in the main shaft. The earliest recorded reference to the cross is in 1702, but it was probably erected long before this date. It has the letters 'W B' carved into the west-north-west face, which stand for 'Warren Bounds', to mark the limit of the Headland Warren boundary. In its day, this warren was fully occupied in supplying rabbit meat to the tinners of Vitifer Mines.
There are a number of theories as to how it got the name of Bennet's Cross. One was that it was named after a 16th Century tin miner, by the name of William Bennet, who held the tin rights in this area and who had the cross erected to mark his boundary. Another theory is that this is one of a number of crosses marking the route between two Benedictine Monasteries at Exeter and Tavistock. (The word 'Bennet' or 'Benet' being a mediaeval corruption of Benedictine).