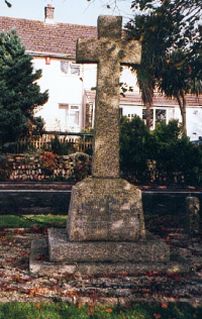 Location: Standing at the western end of the village green.

O/S Grid Ref: SX/520/624 Longitude/Latitude (Degrees+/-): -4.08607/50.44255 (approx.)

Map location: Click here to view map.

Purpose: War Memorial.

Size: 5 feet 6˝ inches (1.69 metres) tall. 2 feet 2˝ inches (0.67 metres) across the arms. The shaft measures 10˝ inches (0.27 metres) by 7 inches (0.18 metres).

Information: This modern cross was made and erected in its current position, specifically for the village War Memorial. It is square in section, but there is a slight tapering of the arms inwards, the head downwards and the shaft upwards. The cross is set in a socket stone, standing on a pedestal of two steps. As would be expected of a relatively modern cross, it is in very good all round condition.

The socket stone is square, tapering upwards and with a bevelled top edge around the shaft of the cross. It measures 2 feet 6 inches (0.76 metres) square at the base and is 2 feet 1 inch (0.64 metres) high. Both steps of the pedestal are square, with the top step being 6 inches (0.15 metres) high and the bottom one 3 inches (0.08 metres) high. The whole cross is enclosed in a square area, bordered with narrow kerbstones and with a granite pillar in each corner supporting a metal chain all the way around. The square around the pedestal is in-filled with gravel.

The plaque, on the side of the socket stone facing the houses, reads:

TO THE GLORY OF GOD
AND IN MEMORY OF THE MEN OF THIS PARISH
WHO GAVE THEIR LIVES IN THE
GREAT WAR, 1914-1919
REGINALD BIRD, ALBERT HARRIS,
SAMUEL COWLING, ARCHIBALD PARNELL,
RALPH TUCKER.
ALSO IN GRATITUDE FOR THE SAFE RETURN
OF OTHERS WHO SERVED.

'THE MEN WERE VERY GOOD UNTO US . . . .
THEY WERE A WALL UNTO US BOTH BY DAY AND NIGHT'.

A second plaque, on the roadside face, of the socket stone reads:

ALSO
APPLEBY, JOHN. LT. R.N.
BOLT, WILLIAM THOMAS F/O. R.A.F.
DIAMOND, JOHN HENRY. PTE, ESSEX RGT.
GRIMWOOD, MAURICE. STOKER. R.N.
GUSCOTT, RONALD. F/SGT. PILOT. R.A.F.V.R.
PROWSE, JOHN HENRY MORGAN. SBR. R.E.
PROWSE, FREDERICK MORGAN PTE. GLOS. RGT.
PULLEYBLANK, LESLIE WILLIAM. LSA. R.N.

WHO GAVE THEIR LIVES IN THE
2ND WORLD WAR 1939-1945.

The cross is set at the other end of the village green from the Bickleigh Village Cross, which is sited at the eastern edge of the green, immediately outside the churchyard wall. This would be quite a pleasant site for the cross, under the shade of a tree on the village green, if it wasn't for the noise of the continuous traffic passing on the adjacent main road.