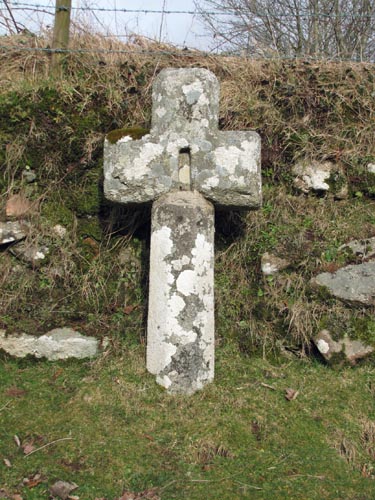 Location: At the Crossroads about 400 yards North of the Jordan Manor.

O/S Grid Ref: SX/70108/75342 Longitude/Latitude (Degrees+/-): -3.83532/50.56335

Map location: Click here to view map.

Purpose: Waymarker showing the way from outlying farms and hamlets to Widecombe Church.

Size: 4 feet 3 inches (1.30 metres) tall. 2 feet (0.61 metres) across the arms.

Information: This is yet another cross with a chequered history. Mr Masson Phillips recorded, in 1937, that he found the head of this cross built into a nearby roadside wall. He found no sign of the shaft. When Harry Starkey looked for the cross during the 1950ís, the head had been removed from the wall and was lying in a nearby ditch. Later it was again moved and found lying amongst a pile of rubble in a field.

The cross was restored in 1967 by the Dartmoor Preservation Society, led by Mr Masson Phillips. A replacement shaft was found for it in the grounds of a house at Totnes. It would appear that the cross is now sited very close to its original position on the path that would have led direct to the church at Widecombe.

The shaft, which is slightly tapered, is octagonal to match the head. In the centre of the head is a vertical slot which measures about 7 inches tall, 2 inches wide and about 1 inch deep. The purpose of this slot is not known, but it has been suggested that it might have served to hold a crucifix or other similar image. The point being that in the days of the iconoclasts it would have been easy to destroy the image, thus leaving the cross intact.

When visited, the slot and the tops of the head and arms were covered in coins, but the reason for leaving these coins at the site is not known.

The manor of Jordan is centuries old and the road runs right through the farmyard. At either end of the farmyard a gate is placed across the road so that, although you stand on the public highway, it very much feels as though you are intruding on private property. On one side of the road is the fine old farmhouse with its thatched roof and on the other the barn has now been converted into private accommodation.