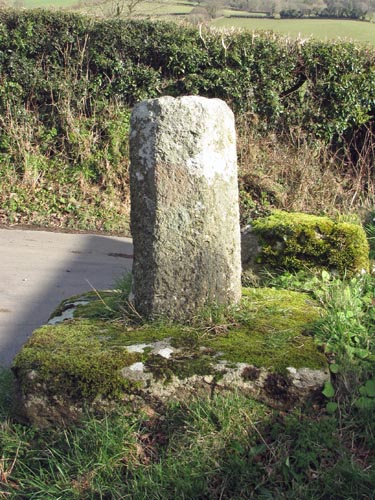 Location: Beside the road, between South Zeal and South Tawton, at the junction named Moon's Cross.

O/S Grid Ref: SX/65243/94150 Longitude/Latitude (Degrees+/-): -3.91082/50.73129

Map location: Click here to view map.

Purpose: Waymarker.

Size: 2 feet 7 inches (0.80 metres) tall.

Information: All that is left of this cross is a short length of shaft fixed in its original socket stone. The shaft is octagonal in shape and the socket stone is square, with the corners rounded off. It is not known when the cross was damaged, but it was in the same condition when G.W. Ormerod described it in 1874.

Judging by the size of the socket stone, about 3 feet 3 inches square, and the circumference of the shaft, 4 feet, it must have made an impressive sight before the damage was incurred. Unfortunately, no-one has been able to trace the whereabouts of the original head and arms.