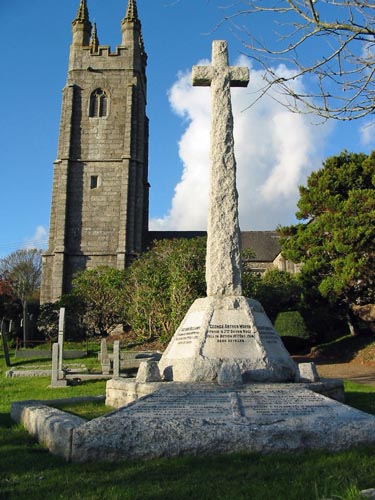 Location: Just inside the Peter Tavy Churchyard
O/S Grid Ref: SX/51316/77750 Longitude/Latitude (Degrees+/-): -4.10143/50.58050
Map location: Click here to view map.
Purpose: War Memorial
Size: Not yet measured.
Information: Just inside the main gate to the Peter Tavy Churchyard, and to the left of the path, is the rugged village War Memorial Cross, which was erected and dedicated in 1922. The cross was funded through the generosity of the parishioners and the names of all the local men who lost their lives during World War I were engraved on the socket stone. The memorial was extended to include World War II, when the names of those lost in that conflict were added in 1948.
Although roughly hewn, the shaft which is square and tapers towards the top, is headed by a fine Latin Cross. A large tapering hexagonal socket stone supports the cross, which in turn sits on a hexagonal platform, and has a worked recessed band around each of the five faces. A series of small granite vases sits on each edge of the platform, centred with each face of the socket stone. The platform also includes a solid panel on one side which has been used to extend the engraving area. The cross was renovated in 2011, funded by a grant of £500 from the Small Grants Scheme.
In the lane, just outside the the lychgate, stands the replacement for the Peter Tavy Village Cross with its interesting carved socket stone.