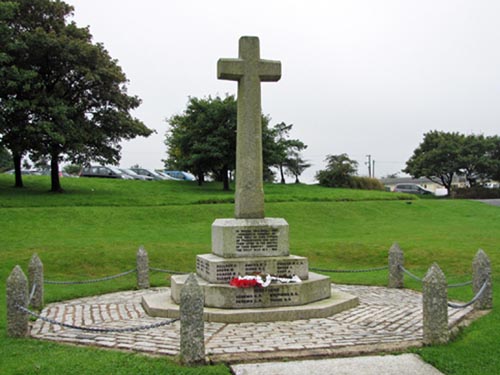 Location: On the village green, a short distance to the north of the High Moorland Centre.

Grid Ref: 588 735 Map location: Click here to view map.

Purpose: War Memorial

Size: 7 feet 3 inches (2.21 metres) tall. 2 feet 6 inches (0.76 metres) across the arms. The shaft measures 12 inches (0.30 metres) square.

Information: This modern cross was designed and erected for the town's war memorial. The shaft, which slightly tapers upwards, is square at the bottom and chamfered above. The head and arms are also chamfered and the arms are slightly tapered outwards. The socket stone sits on a pedestal of 3 steps and is square, with a bevelled top edge. The socket stone measures 2 feet 7 inches (0.79 metres) square and 17 inches (0.43 metres) high. As with the socket stone, the top step is square and has a slightly bevelled top edge. In contrast, the two lower steps are octagonal in shape. The area around the cross is cobbled and is surrounded by a number of pointed granite posts, which are linked by a chain.

The commemoration on the eastern face of the socket stone reads:

IN PROUD, GRATEFUL, AND
HONOURED MEMORY OF
THE MEN OF THIS PARISH
OF PRINCETOWN, WHO GAVE
THEIR LIVES IN THE SERVICE
OF THEIR COUNTRY DURING
THE GREAT WAR 1914 1919

That on the western face reads: "They died that we might live"

On the north, east and south faces of the top step are listed the names of the 32 men who lost their lives during the First World War. A further 4 names, of men who lost their lives in the Second World War, are shown on the eastern face of the middle step.