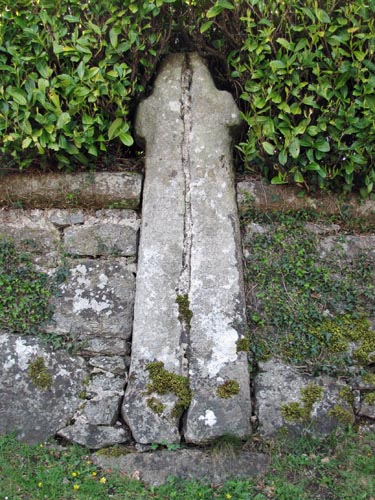 Location: Beside the entrance pillars to the lane that runs up to South Harton Farm, between Lutleigh and North Bovey.

O/S Grid Ref: SX/773/823 Longitude/Latitude (Degrees+/-): -3.73741/50.62712 (approx.)

Map location: Click here to view map.

Purpose: Waymarker.

Size: 6 feet 3 inches (1.90 metres) tall. 1 foot 8 inches (0.51 metres) across the arms.

Information: The cross has obviously been split down the middle at some point in its past in order to make two substantial gateposts. At some time during the 19th century, a former occupier of South Harton Farm retrieved the cross and put it back together again. The two halves have been roughly cemented together, with the whole being partly built into the farm wall.

The arms of the cross seem to be quite small in comparison to the massive shaft. The original site of the cross is not known, but is thought to be somewhere near its current position.