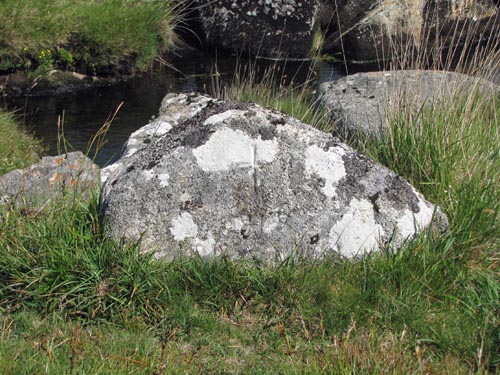 Location: On the Eastern bank of the River Teign, about 100 yards downstream from the Teignhead Farm Clapper Bridge and beside, the smaller, Starkey's Clapper Bridge.

O/S Grid Ref: SX/64003/84649 Longitude/Latitude (Degrees+/-): -3.92488/50.64560

Map location: Click here to view map.

Purpose: Memorial to the late F.H. (Harry) Starkey.

Size: The stone is 2 feet 3 inches (0.70 metres) wide. 1 foot 4 inches (0.40 metres) high and 1 foot 1 inch (0.33 metres) deep. The incised cross is 4 inches (0.10 metres) tall by 3 inches (0.08 metres) across the arms.

Information: This little clapper bridge was restored in 1990 and was subsequently named after the late F.H. (Harry) Starkey who, with a friend, discovered the impost lying downstream in the bed of the river. The cross is incised into a small boulder on the eastern bank of the river, opposite the end of the bridge. The following commemoration has been engraved beneath the cross:

F H S
1 9 1 2 - 1 9 8 9

The bridge consists of 2 imposts laid side by side. The Northern one measures 8 feet 4 inches (2.55 metres) long, 2 feet 2 inches (0.66 metres) wide and about 4 inches (0.10 metres) thick. The Southern impost measures 9 feet 4 inches (2.85 metres) long, 1 foot 11 inches (0.58 metres) wide and about 6 inches (0.15 metres) thick.
The Northern impost has had an iron inserted into a hole of its upper surface, near each end. These have now been cut off flush with the stone. The southern impost has also had a hole drilled into it near the western end, but this is not very deep. I am not aware of the purpose of these irons but doubt that they were gate hangers, due to their positioning on the stone. It seems more likely that, at some point, the two imposts have been clamped together with irons to make the bridge more secure.
The inhabitants of Manga Farm originally built the bridge, in order to cross the river on their journeys through Fernworthy to Chagford. It is thought that it was destroyed in 1826, when floodwaters also destroyed the more substantial Teignhead Farm Clapper upstream. No-one seemed to know of the existence of this bridge until Harry Starkey found it and we are indebted to him for the restoration of another small piece of Dartmoor's history.