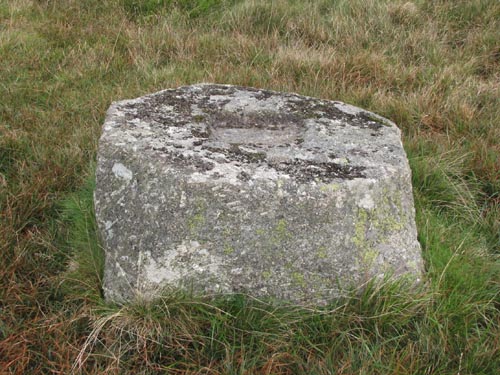 Location: About 50 yards to the north of the eastern-most outcrop of Wacka Tor.

O/S Grid Ref: SX/66292/62099 Longitude/Latitude (Degrees+/-): -3.88442/50.44346

Map location: Click here to view map.

Purpose: This stone was originally selected as a potential socket stone for a cross, but was abandoned before it was finished.

Size: The stone measures 3 feet 2 inches (0.96 metres) wide, 3 feet (0.91 metres) deep and 16 inches (0.41 metres) high.

Information: The stone was obviously being worked in situ for use as a socket stone for a wayside cross, but was subsequently abandoned. A 12 inch (0.30 metre) square hole has been started in the top of the stone, to an uneven depth of 1 to 1½ inches (0.02 to 0.04 metres). In addition, each corner of the stone has been chamfered from the top down, finishing just short of the base of the stone. However, on one corner the attempted chamfer seems to have split all the way down the stone and this is the possible reason for it having been abandoned.

It is not known where this socket stone was eventually to be placed or whether it was intended to support an existing cross or even if a new cross was to be made for it. Due to the size and weight of the stone, I can't image there was any intention to move it any great distance from where it now stands.

Not far from this cross base, stands another abandoned stone at Grid Ref: SX66074/62243. It appears as though this stone was intended to be a millstone and although there is no obvious fault in the stone, it was abandoned before all the stone around the edge was fully trimmed away.
Our thanks go to Bob Noakes for bringing the abandoned socket stone to our attention.