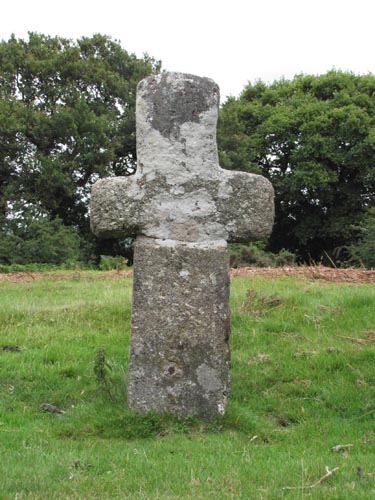 Location: Just inside the main entrance to the Golf Course, as approached from Tavistock, by the left hand side of the road.

O/S Grid Ref: SX/49299/73859 Longitude/Latitude (Degrees+/-): -4.12832/50.54502

Map location: Click here to view map.

Purpose: The cross was erected as a waymarker for the track across Whitchurch Down, leading into Tavistock. This track would have been regularly used by the monks on their journeys to the Tavistock Abbey from both the Buckfast Abbey, via the Monks' Path, and the Plympton Priory.

Size: 4 feet (1.22 metres) high. 2 feet 1 inch (0.63 metres) across the arms. The original head of the cross is 1 foot 11˝ inches (0.60 metres) high. The piece of replacement shaft is 2 feet and ˝ inch (0.62 metres) tall, 12˝ inches (0.32 metres) wide and 10˝ inches (0.27 metres) deep.

Information: The badly mutilated head of this ancient cross now rests on top of a relatively modern replacement shaft. The shaft is not a very good match, being of a different grade of granite and of greater depth than the head. Consequently, there is an overlap of ˝ inch at the front and 3 inches at the rear, between the top of the shaft and the cross, which has been cemented into place. The head, which rises 13˝ inches above the arms, looks out of proportion to the size of the arms. This makes me wonder whether it has been set up on the shaft in an upside down position and that what we now see as the head is, in fact, part of the original shaft. This would mean that the original part of the head, above the arms, has been destroyed as the arms now sit directly onto the top of the new shaft. The alignment of the cross is north-west to south-east.

The shaft is squarely cut and made of finer granite than the head of the cross. Five tare and feather marks, used to shape the stone, can clearly be seen on the southern corner of the shaft. This stone has also served as a gatepost at some point in its history, as evidenced by the remains of a gate hanger still showing low down on its south-west face.

It is thought that the cross stands at or near its original position and is placed in its original socket stone. This is a large round stone which sits flush with the ground. It is split in half vertically and the hole for the shaft goes right the way through the stone.

Whitchurch Down is a busy area, dominated by the Tavistock Golf Course. At all times of the day, the down is occupied by golfers, walkers, cars, sheep and ponies. As it is common land, the animals are free to roam wherever they like with the exception of the golf greens, which are roped off for their own protection.