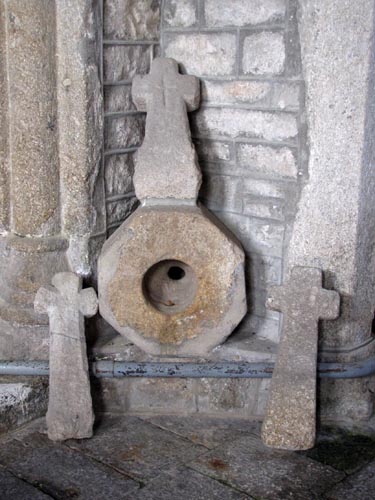 Location: Inside the church, to the left and by the door leading to the tower.

O/S Grid Ref: SX/71880/76800 Longitude/Latitude (Degrees+/-): -3.81082/50.57684

Map location: Click here to view map.

Purpose: Church Crosses

Size: Top Cross: 2 feet 3 inches (0.69 metres) tall. 11 inches (0.28 metres) across the arms. The incised cross is 6 inches (0.15 metres) tall and 4 inches (0.10 metres) across the arms.
Left-hand Cross: 2 feet 3 inches (0.69 metres) tall. 10 inches (0.25 metres) across the arms.
Right-hand Cross: 2 feet 6 inches (0.76 metres) tall. 11 inches (0.28 metres) across the arms.

Information: It seems that these 3 crosses came to light in January 1876, when some work was being done inside the church. A walled-up Gothic doorway was being re-opened in the northern aisle and, behind this doorway, the workmen discovered a staircase leading up to the rood-loft. A piece of the shaft measuring 20 inches long and belonging to the Churchyard Cross were found built into this staircase. At the same time the discovery of these three crosses was made. No records exist of their original location, prior to be stored away in the staircase. I just wonder whether they were stored away for safekeeping during the reign of Henry VIII, when many crosses and other religious artefacts were destroyed under his suppression of the Catholic faith.

The current Widecombe Church building was erected in the 14th century in the perpendicular style. It is dedicated to St Pancras and is often referred to as the Cathedral of the Moor. The tower, which stands 120 feet high, is a later addition and is topped off with crocketed pinnacles. Inside, the tinners' emblem of three rabbits sharing three ears has been carved on a roof boss, in recognition of the contribution made by the tinners to the building and upkeep of the church.


A tragic event happened at the church during a service on Sunday 21st October 1638. The vicar, the Revd. George Lyde, was in the pulpit giving his sermon when a thunderstorm broke and a bolt of lightening struck the church. All of a sudden everything went dark and masonry started breaking away from the tower and fell down into the main aisle of the church. Unfortunately, four of the congregation were killed and a further sixty-two were injured, either as a direct result of the lightening or by the falling masonry. Although not unique, events such as this are very rare and thankfully the church was able to be restored to its former glory. There is a double-plaque on the wall inside the church which gives a fuller account of this tragedy.