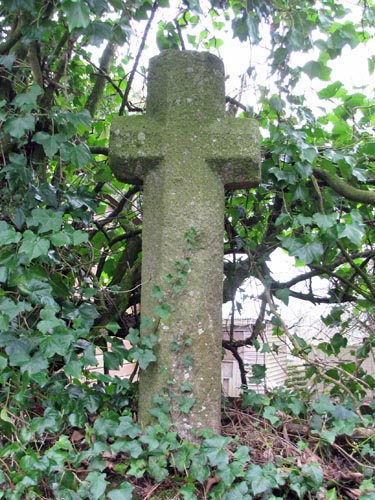 Location: On top of the hedge, opposite the signpost, at the crossroads beside Addiscott Farm. The cross is not always easy to spot due to it being overgrown by the nearby shrubs on the hedge.

O/S Grid Ref: SX/66669/93343 Longitude/Latitude (Degrees+/-): -3.89033/50.72436

Map location: Click here to view map.

Purpose: Waymarker showing the way from outlying farms and hamlets to the church at South Tawton.

Size: 4 feet 7 inches (1.40 metres) tall. 1 foot 8 inches (0.50 metres) across the arms.

Information: This is a very fine cross with Octagonal arms and shaft, sitting in a rectangular socket stone. It is just a pity that it is usually hidden by the nearby bushes and is not therefore seen to its best advantage.

This cross has been moved a couple of times in the past, but thankfully not far. During the 1870ís it was moved from its original site in order to make way for a gateway to be created. It appears that its new site was not ideal and in 1958 it was moved again to its current site. Luckily it has been cared for during these moves and has not suffered the fate of a number of Dartmoor Crosses, which have had their arms knocked off and been used as gateposts in similar circumstances.

Across the road from the cross stands the property of Addiscott House, standing behind a stone wall. At the base of the wall, and beside the side entrance gate to the property, is situated the fine example of a Dartmoor granite trough. Although the trough is now becoming overgrown with moss and weeds, it is still fed with water running down the hill and feeding into the trough by way of a clay pipe. This provides a useful bird bath and source of drinking water for any passing wildlife.