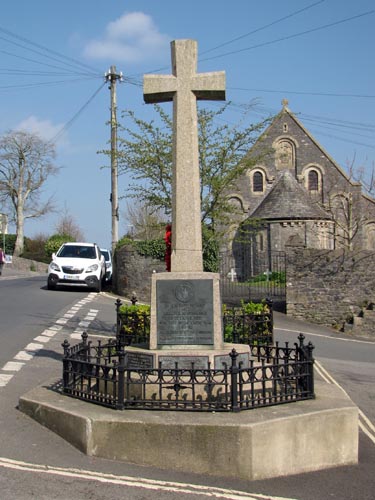 Location: At the junction of East Street and Dolbeare Road, Ashburton.

O/S Grid Ref: SX/75957/70087 Longitude/Latitude (Degrees+/-): -3.75103/50.51738

Map location: Click here to view map.

Purpose: The cross serves as the town's war memorial.

Size: The cross measures 7 feet 7 inches (2.31 metres) high and 2 feet 6 inches (0.76 metres) across the arms. The shaft is 12 inches (0.31 metres) square at the base. The base stone, upon which the cross stands, is 2 feet 1 inch (0.64 metres) wide, 2 feet 2 inches (0.66 metres) deep and 2 feet 5 inches (0.74 metres) high. The two plinths, inside the railings, are 5 feet 3 inches (1.60 metres) across, at the widest point, and taken together are 1 foot 4 inches (0.41 metres) high.

Information: This fine, modern cross is set in a tall base stone on 3 octagonal plinths. The top two plinths are surrounded by a low metal fence to give protection to the wreaths laid around the cross on Remembrance Day. Although square at the bottom the edges of the shaft, together with the arms, have been chamfered from 9 inches (0.23 metres) above the base of the cross.. The shaft and arms are also tapered in towards the head of the cross.

Affixed to the south western face of the base stone is a plaque in memory of those men who fell in the first World War, which reads: 'IN HONOURED MEMORY AND GRATEFUL REMEMBRANCE OF 72 MEN WHO FELL IN THE GREAT WAR 1914-18. ASHBURTON DEDICATES THIS MONUMENT. THE PATH OF DUTY WAS THE WAY TO GLORY'. The names of the men who lost their lives in this war are recorded on plaques around the other faces of this base stone.

The south western face of the top plinth has a plaque in memory of those who lost their lives in World War II, which reads: 'IN HONOURED MEMORY OF THOSE OF THIS TOWN WHO GAVE THEIR LIVES IN THE SECOND WORLD WAR 1939-1945'. The names of those men have also been recorded on separate plaques around the plinth.