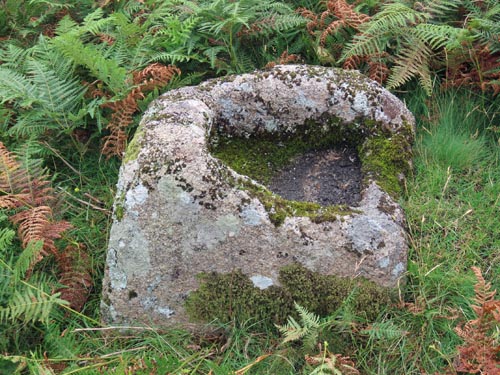 Location:
At Beatland Corner, on the bank at the side of the road.
O/S Grid Ref: SX/548/624 Longitude/Latitude (Degrees+/-): -4.04628/50.44343 (approx.)
Map location: Click here to view map.
Purpose: Waymarker on the ancient route taken by the monks between the Augustinian Priory at Plympton and Tavistock Abbey.
Size: The socket stone measures 2 feet 2 inches (0.66 metres) by 2 feet (0.61 metres) at the base and 1 foot 10 inches (0.56 metres) high. The size of the socket is 15 inches (0.38 metres) by 9 inches (0.23 metres) and 6 inches (0.15 metres) deep.
Information: The socket stone is all that remains of this cross. The edges of the socket have been badly damaged over the years. Although no-one really knows what has happened to the rest of the cross, William Crossing suggested that this socket stone could once have held the Shaden Moor Cross. The size and roughly shaped nature of the shaft would appear to be a very good match for the socket stone. Even though the two are now about ¾ mile apart, there are other instances on the moor where crosses have been moved greater distances.
Beatland Corner is at the crossroads of the Shaugh Prior to Wotter and Cadover Bridge to Sparkwell Roads. The local pronunciation for this site is: 'Binlin's Corner'.