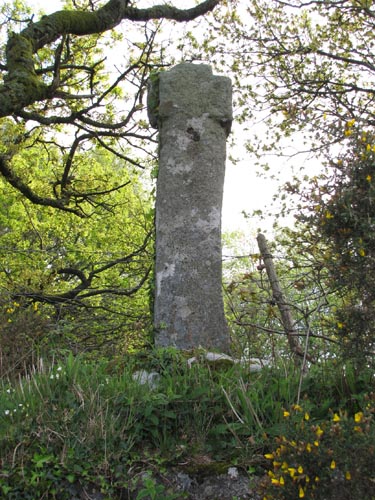 Location: On top the hedge at the crossroads of the B3212 (Moretonhampstead to Two Bridges road) and Long Lane (road to Manaton).
O/S Grid Ref: SX/71302/84203 Longitude/Latitude (Degrees+/-): -3.82155/50.64326
Map location: Click here to view map.
Purpose: It is very likely that this cross was erected to mark the ancient Track from Exeter to Tavistock, in the days before the B3212 was built. However, there is another theory that the cross was erected to mark the scene of conflict between the invading Saxons and the local British Christians of the moor.
Size: 4 feet 8 inches (1.40 metres) tall. 1 foot 4 inches (0.40 metres) across the arms.
Information: This is another cross that 'went missing' during the nineteenth century. It was found by William Crossing, being used as a gatepost in a field just to the South of its current position. During 1899 the vicar of North Bovey, the Rev. W.H. Thornton, together with the Teign Naturalists Field Club and a Mr Taylor, of the nearby Hele Estate, got together to arrange for restoration to its rightful place. This was completed in the August of that year. On completion, a party of forty five club members drove out to inspect the work and enjoyed a 'pleasing' inauguration ceremony at the rectory afterwards.

The junction at which this cross stands is known as 'The Watching Place'. The actual Beetor Crossroads is situated about 120 metres to the north, at the junction of the B3212 with the road that leads off to Chagford. There are several explanations as to how this junction might have acquired its name. The most likely is that there was once a gallows situated here, where local highwaymen met their justice. Their compatriots and relatives would 'watch' the hanging body until given permission to cut it down. Conversely, it is possible that the highwaymen, themselves, used to lay in ambush here 'watching' for a likely victim to come their way.
Another possible explanation is that there was once an outbreak of the plague in the vicinity. Well-wishers would leave food for them on a granite stone at the crossroads and retreat to a safe distance. The well-wishers would 'watch' to ensure that those with the disease did not proceed beyond the point to which they were allowed. They may also have watched for the day when the victims no longer turned up for their rations and would then have known that they had succumbed to its lethal effects. The house would have been burnt to the ground in order to destroy all trace of the disease, to ensure that it could not be spread any further.