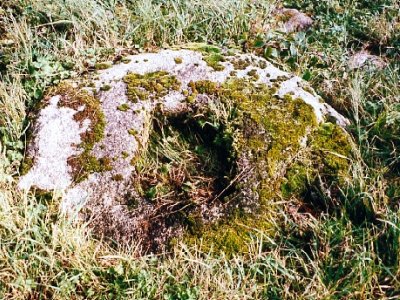 Location: At the junction of the road from Cadover Bridge to Plympton with that from Bickleigh. The socket stone is on the triangle of grass in the middle of the road junction.

Grid Ref: 545 608

Map location: Click here to view map.

Purpose: Socket stone for a wayside cross.

Size: The stone measures 3 feet 11 inches (1.19 metres) by 3 feet 9 inches (1.14 metres) and at least 10 inches (0.25 metres) deep. The size of the socket is 15Ĺ inches (0.39 metres) by 13 inches (0.33 metres) and 9 inches (0.23 metres) deep.

Information: The socket stone is roughly octagonal in shape and is lying flat on the ground in the centre of the green. There are four other stones arranged around one side of the socket stone. These are thought to be all that is left of eight original stones which formed an octagonal plinth for the socket stone. These are probably more or less in their original positions.

There is a fifth stone nearby, but this would not have been part of the original set as it has been worked to form square corners and smooth sides. The working of this stone is obviously too recent to be connected with the original cross. For at least the first half of the 20th Century the site was overgrown and in quite a mess. However, it was tidied up by the County Roads Department in 1958 and has been regularly maintained ever since. Unfortunately, the whereabouts of the actual cross has never come to light.

It was a fine October day when I visited this cross and, as I kept mainly to the roads, I was only wearing trainers at the time. There was quite a thickness of grass growing up from the socket, in the centre of the stone and, in order to enhance the socket for the photo, I thought I would press it down a bit with my foot. What I didnít realise was that the socket was also full of water, with the result that I got a nice wet foot for my troubles. Not to worry, I still got a good photo though!