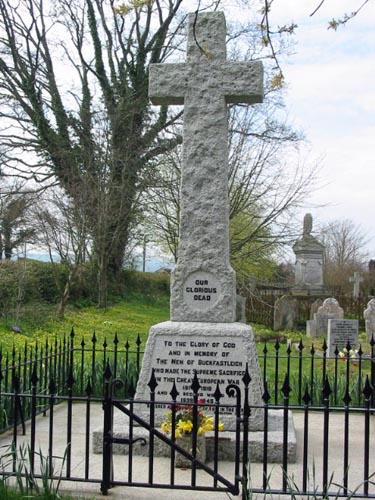 Location: In the Buckfastleigh Churchyard
O/S Grid Ref: SX/74218/66527 Longitude/Latitude (Degrees+/-): -3.77435/50.48501
Map location: Click here to view map.
Purpose: War Memorial for both World War I and World War II.
Size: The cross is 8 feet 7 inches (2.62 metres) tall and 3 feet 6 inches (1.07 metres) across the arms. The base of the shaft is 20 inches (0.51 metres) wide and 10½ inches (0.27 metres) deep. The lowest point of the base stone is 42 inches (1.07 metres) by 29 inches (0.74 metres) by 34 inches (0.86 metres), tapering to 31 inches (0.79 metres) by 19 inches (0.48 metres) by 34 inches (0.86 metres) at the top. The base stone is set on a plinth which measures: 5 feet (1.52 metres) by 4 feet (1.22 metres) by 7 inches (0.18 metres).
Information: This cross was given a thorough overhaul during the months of June and July 2014. The cross and its surrounds were thoroughly cleaned and both the letters and railings were repainted. The work was completed in time for a service, to commemorate World War I, to be held at the Holy Trinity Church on 4th August 2014.

The Buckfastleigh Holy Trinity Church suffered a disastrous fire on the night of 21st July 1992. It appears as though someone broke into the church around midnight and started a fire under the altar, which quickly spread throughout the building. The fire brigade were hampered in their task by the fact that the nearest hydrant was over a quarter of a mile away and a total of 38 hoses were required to be linked together to cover the distance. In addition, all the water had to be pumped uphill thus reducing the pressure that could be applied to the fire. The fire was so intense that it could not be completely controlled and the building was completely gutted. Unfortunately, the church has not been rebuilt and the empty shell is now being left for nature to take it over.