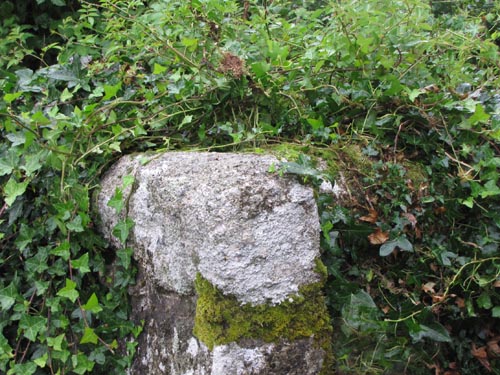 Location: Built into the low chuchyard wall, close to the South gate, as a coping stone.

Grid Ref: 720 731

Map location: Click here to view map.

Purpose: This was probably once the Buckland Village Cross.

Size: The remaining part of the shaft and head is 1 foot 8 inches (0.51 metres) long and 1 foot 10 inches (0.56 metres) across the arms. The head and arms are 11 inches (0.28 metres) in width and 7 inches (0.18 metres) thick.

Information: Only the upper portion of the octagonal shaft, head and one arm of this cross is to be found.

Prior to the building of its church in the 12th century, the hamlet (as it was) of Buckland used to form part of the Torre Abbey estate. This cross, would more than likely have been erected in a prominent position near to where the church now stands and have been used as a preaching point by the monks from the Abbey.

Just outside the South Gate, in front of Church Cottage, is what was once perhaps the pedestal of this cross. Built of granite stones, many covered in moss, it now surrounds a tree which according to a commemorative stone was planted in 1935 to mark the 26th year of the reign of King George V. In Crossing's time a sycamore tree was standing in the centre of this pedestal, which he assumed from its size to have stood there for some considerable time.
The 12th century church, dedicated to St Peter, has an interesting clock face on its tower. Instead of the usual numbers, it is inscribed with the letters which read 'MY DEAR MOTHER'. This was arranged by a former Lord of the Manor, as a memorial to his mother, Mrs Whitley. It is also said that a chime attached to the church bells ring out the tune of a children's hymn. Internally, the church has a beautifully painted rood screen and an ornately carved wooden staircase leading to the roof loft.