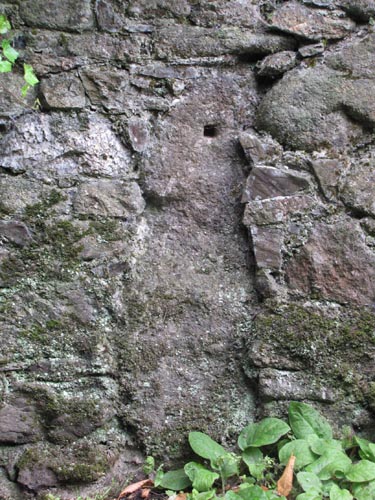 Location: Built into the wall of Buckland Court, 25 yards up the road from the pillar beside the main entrance gate.

O/S Grid Ref: SX/72164/73070 Longitude/Latitude (Degrees+/-): -3.80553/50.54338

Map location: Click here to view map.

Purpose: It was originally in use as a Waymarker.

Size: 3 feet 7 inches (1.09 metres) tall. The exposed area across the arms measures 12 inches (30 metres). However, as the distance from the edge of the outside arm to the centre of the cross is 8 inches (0.20 metres), it must be assumed that the full width across the arms is 16 inches (0.40 metres).

Information: This is obviously a really ancient and crudely fashioned cross. Its shape is very irregular, even more so than Bennetís Cross. Although it

matches very well with the stonework of the wall, it does not fit squarely as one shoulder protrudes slightly from the line of the wall, whilst the other is buried into it.
This is another cross that has been used as a gatepost at some point in its history, as can be seen by the square hole in its face that would have accommodated the hinge. The rusted remains of the second hinge can still be seen at the bottom of the cross.
The manor of Buckland-in-the-Moor dates from Saxon times and was sold to the Bastard's of Kitley Manor, Yealmpton, in 1614, although the family also remained as owners of Kitley Manor. The estate was passed down through the family to Edmund Pollexfen who was born in 1784. He went on to become MP for Devon and was responsible for setting up a number of boundary stones on

Dartmoor to mark the boundary of his manor. Most of these stones are inscribed with 'EPB 1837' (Edmund Pollexfen Bastard with the date of 1837) on one face, 'B' (Buckland) on another and 'A' (Ashburton) on a third side. Edmund died in 1838, only 12 months after having the boundary stones erected and the estate then passed to his son, the Reverend William Pollexfen Bastard (1832 to 1915). Although William was Rector of Lezant in Cornwall, he continued to hold Buckland Manor and there is a large granite cross in the Buckland Churchyard in memory of William and members of his family.