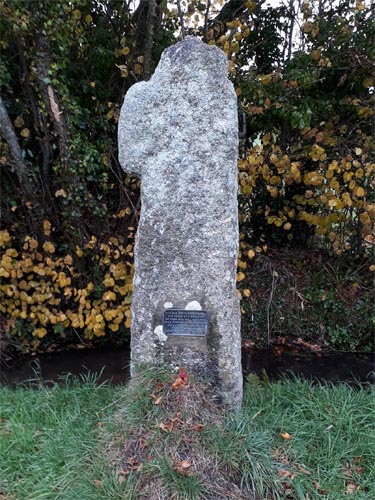 Location: Beside the footpath from Bovey Tracey to Challabrook Farm, about 250 yards to the West of the A382 Newton Abbot to Moretonhampstead road.

O/S Grid Ref: SX/81005/77853 Longitude/Latitude (Degrees+/-): -3.68234/50.58824

Map location: Click here to view map.

Purpose: Memorial to an unknown Royalist Officer who fell near this spot during the English Civil War.

Size: 5 feet 10 inches (1.78 metres) tall, 1 foot 6 inches (0.46 metres) across the shaft and surviving arm.

Information: This is another cross that has a battered history and has been used for some time as a gatepost. One arm is completely missing, the other has been shortened and the head is badly damaged. There are traces of an incised cross on each face, between the arms. The shaft of the cross now bears a brass plate, with the following inscription:

THIS OLD CROSS ONCE MARKED
THE GRAVE OF A ROYALIST
OFFICER WHO FELL NEAR HERE
1645 WHEN CROMWELL'S TROOPS
DEFEATED THE ROYALISTS

The cross was rescued from its use as a gatepost in 1923 by Mr A.J. Wyatt, who was responsible for setting it up in its current position and fitting the plate described above.
The Cromwell Arms, one of many old houses in Bovey Tracey, lays claim to an unusual method of escape by the Royalist troops after their capture by Cromwell's men. In a surprise raid on the town, Cromwell's men caught their enemy off guard and captured most of the troops, including a number of officers. Knowing that Cromwell's men were poorly paid, the Royalist Officers scattered all their coins on the ground. Whilst the Parliamentarians were scrambling over the money, the Royalists made quick their escape. However, they were still defeated in the battle of Bovey Heath, later that same day.
The battle of Bovey Heath took place during the English Civil War, on 9th January 1646. At the time, Bovey Tracey was occupied by the Charles I's Royalist troops. However, Cromwell and his New Model Army, under the command of Colonel Thomas Fairfax, engaged them in battle at Heathfield (now known as Bovey Heath) and won the day.
Recent research has revealed that the escape, outlined above, is more likely to have taken place at the 'Front House', now a guest house in East Street, rather than the Cromwell Arms. This is covered in Lance Tregoning's book 'Bovey Tracey – an Ancient Town' and has been confirmed by the Historic Buildings Society, based on factual records. The Cromwell Arms is more likely to have acquired its name due its close proximity with 'Cromwells Arch', in Abbey Road. This arch is the only visible remains of the old monastery, which dated from 1170 and has now almost completely disappeared.