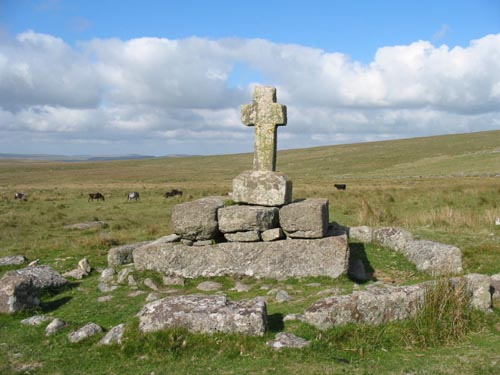 Location: On the South East edge of Foxtor Mires, about 500 metres North of Fox Tor.

O/S Grid Ref: SX/62579/70302 Longitude/Latitude (Degrees+/-): -3.93970/50.51632

Map location: Click here to view map.

Purpose: Legend has it that this cross was erected over the kistvaen (burial chamber) of Childe the Hunter.

Size: 3 feet 4 inches (1.00 metres) tall. 1 foot 8 inches (0.50 metres) across the arms.

Information: The cross is set in a square chamfered socket stone, which rests on a set of worked granite blocks over the chamber. The whole is surrounded by a circle of granite stones set up on their edge, in the fashion of a number of kistvaens on the moor. This raises the total height of the cross to 7 feet 2 inches (2.20 metres) above the ground.

This is another cross that has been vandalised in the past as, in 1812, Thomas Windeatt was responsible for taking many of the stones for use as steps and lintels when erecting the house and buildings of Fox Tor Farm. It is also believed that some stones were used to make a clapper bridge over the River Swincombe.

The site was repaired in the 1880's by Mr Fearnley Tanner and the Dartmoor Preservation Society. Nine of the twelve original blocks which formed the pedestal were recovered and reused. However, although the head of a cross and a socket stone were found nearby, neither of these were used in the rebuilding of the cross. Instead, a new cross and base were cut at Holne and transported to the site.

A broken socket stone, which is believed to have been the original one for this site, can still be found a few yards from the cross.
According to Professor H.P.R. Finberg, Childe the Hunter was Ordulf, son of Ordgar, who was the Saxon Earl of Devon in the 11th Century. The name 'Childe' was probably derived from the word 'Cild' (Saxon for 'Young Lord').
Legend has it that Childe was one of a party out hunting one day on the moor when they got caught in a blizzard. Due to bad visibility, Childe got separated from the main party and was lost. In order to save himself from dying of exposure, he killed his horse, disembowelled it and crept inside the carcase for shelter. In the end he still froze to death, but before he died, he wrote a note to the effect that whoever shall find him and bury him in their church shall inherit his Plymstock estate for that church.

He was found by the monks of Tavistock, who started to carry his body back to their Abbey. However, they got to hear of a plot to ambush them, by the inhabitants of Plymstock, at a bridge over the River Tavy that they would normally have to cross. In order to thwart this attack they took a detour and built a new bridge over Tavy, just outside of Tavistock. They were eventually successful in burying the body in the grounds of Tavistock Abbey and inherited his Plymstock estate.

William Crossing quotes Tristram Risdon in saying that the original tomb bore the following inscription: