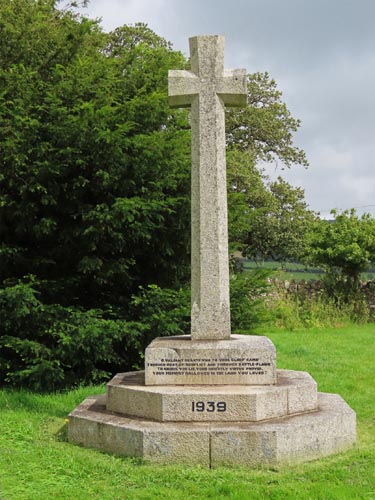 Location:
In the Cornwood Parish Churchyard.
O/S Grid Ref: SX/6040/5938 Longitude/Latitude (Degrees+/-): -3.96634/50.41764
Map location: Click here to view map.
Purpose: War Memorial Cross.
Size: Not yet measured.
Information: This fairly modern cross is of the Maltese type, with a slightly tapering shaft and arms. All the edges of both the shaft and arms have been chamfered from a few inches above the base of the shaft. It sits in a square socket, on a plinth of two steps. The socket stone has been fancily chamfered around the top edge. Each step of the plinth is octagonal in shape, with the upper step being engraved with '1914' in reference to the commencement of the First World War.

The apex of the church porch is topped off by another fine cross. The shaft and arms of this cross are square in design, with the end of the arms and the top of the cross being furnished with curved ends.
Our thanks go to Bob Martin for providing us with a copy of his photos for this page.