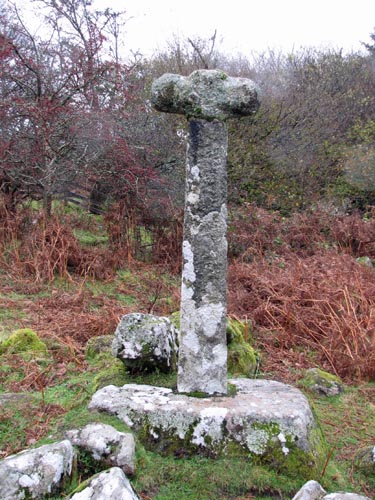 Location: On the North side of the road and beside the Devonport Leat at Cross Gate.

O/S Grid Ref: SX/56175/69495 Longitude/Latitude (Degrees+/-): -4.02966/50.50753

Map location: Click here to view map.

Purpose: Waymarker

Size: 6 feet 1 inch (1.85 metres) tall. 2 feet 1 inch (0.65 metres) across the arms.

Information: Not a lot seems to be known about this cross. Its name has been taken from the spot at which it now stands, although this is unlikely to have been its original site. The parochial records for Walkhampton, around the year 1750, mentions a cross by the name of Leathertor Cross. No sign of this cross can now be found and it is feasible that its remains have been incorporated into the Cross Gate Cross.

This cross has, at one time, been badly damaged and the head is now missing. The slender octagonal shaft is not the original one for the cross, as it is of a later period. The join where the cross has been cemented onto the top of the shaft is clearly visible. The shaft has been cemented into a large base stone, measuring 4 feet by 3 feet.