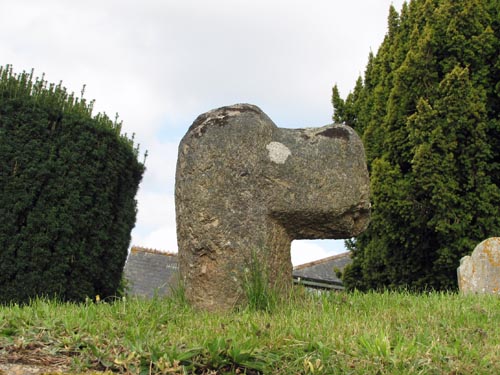 Location: Just inside the main gate to the churchyard and sited on the grass, high up on the left hand side.

Grid Ref: 813 892

Map location: Click here to view map.

Purpose: Waymarker.

Size: 20 inches (0.51 metres) high. 15½ inches (0.39 metres) across the shaft and the remaining arm. Had the other arm not been missing, it would have measured about 22 inches (0.56 metres) across the arms. The shaft is 8½ inches (0.21 metres) square.

Information: All that remains of this cross is one arm and a short length of shaft. In fact, it was not even recognised as a cross until Mr. Edwin Phillips, an antiquary from Plymouth, was passing through the village in 1937and realised its true purpose. At the time it was sited outside a private house, opposite the Royal Oak Inn, being used as a wheel stop. He arranged for it to be re-sited to its current position, in the grounds of St Mary's Church. Although no-one really knows the original location of this cross, it has been suggested that it once stood at the top of the hill to the east of the village, at a spot known as 'St Thomas Cross'.
The shaft and remaining arm is chamfered on all edges, giving it an almost rounded appearance. The head, above the arms, is almost completely missing and appears to have either weathered or been worn away. There is no sign of a socket stone, as the shaft appears to go direct into the ground.