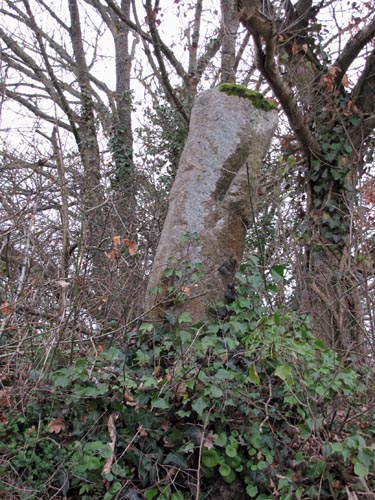 Location:
On top of the bank, on the South West corner of the Two Crosses Crossroads, about 1 mile to the East of Dunsford on B3212.
O/S Grid Ref: SX/82819/89418 Longitude/Latitude (Degrees+/-): -3.66039/50.69256
Map location: Click here to view map.
Purpose: Waymarker to the Church at Dunsford.
Size: The shaft is 3 feet 8 inches (1.12 metres) tall, 11 inches (0.28 metres) wide and 9 inches (0.23 metres) deep. The top of the arms were 9 inches (0.23 metres) below the top of the cross and the arms were 11 inches (0.28 metres) deep.
Information: All that remains of this wayside cross appears to be the shaft which has been re-erected in the ground with the arms broken off. No sign of a socket stone can be found at or around the cross. There is a groove in the roadside face of the cross, which looks to have been made when one of the arms was broken away from the cross. A chamfer on all four edges of the shaft can be detected which, it has been suggested, dates the cross as possibly thirteenth century.


This cross is best visited during the Autumn and Winter months as, during the rest of the year, it is very well hidden by the surrounding vegetation. However, during a visit to the cross in March 2009, I found that the sides and the top of the hedge around the cross had been severely trimmed back to show the cross to very good effect. In fact, a part of the hedge immediately below the cross had fallen away, thus exposing the bottom of the shaft. This rare opportunity of seeing the base of a cross, in situ, shows that the full height of this cross is 7 feet 1 inches (2.16 metres) tall.