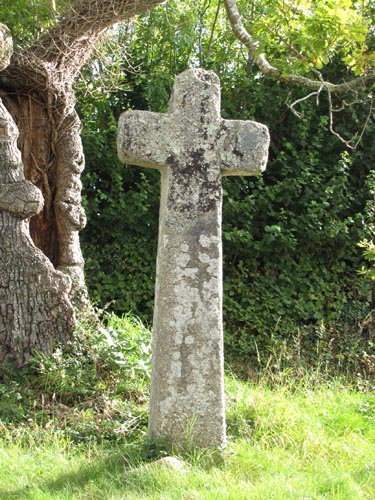 Location: At the crossroads of the same name on the road from Buckfastleigh to Holne, about ˝ mile South East of Scorriton.

O/S Grid Ref: SX/71063/68179 Longitude/Latitude (Degrees+/-): -3.81937/50.49917

Map location: Click here to view map.

Purpose: Waymarker. This is one of a number of crosses that marks the route of the Monks' Path. This is the ancient name given to the track that links the Buckfast Abbey with those at Tavistock and Buckland.

Size: 7 feet 2 inches (2.18 metres) tall. 2 feet 7 inches (0.79 metres) across the arms. The shaft is 11 inches (0.28 metres) in depth.

Information: For many years the cross, minus a length of its shaft, stood on a bank near the entrance to Hawson Farm. In 1952, the cross was restored by the Dartmoor Preservation Association, with the assistance of Mr Masson Phillips and the cooperation of the owner. During this restoration a new length of shaft was skilfully added and this can now be seen as a sloping join, about 2 feet 7 inches (0.79 metres) down from the top. It can also be seen that the Western arm has been reattached to the head at some point in the past.

The cross is now thought to be sited in its original position, and stands at the side of the road under a very old tree that goes by the name of 'The Stumpy Oak'. This is a pollarded oak, which has undergone much repair work by a tree surgeon, as can be seen by the concrete and iron used around the trunk.
In recent times a new sapling has been planted on the triangle of grass, alongside the 'Stumpy Oak' tree. I can only assume that this is forward planning in order to succeed the old oak when it eventually becomes too unstable and has to be felled.