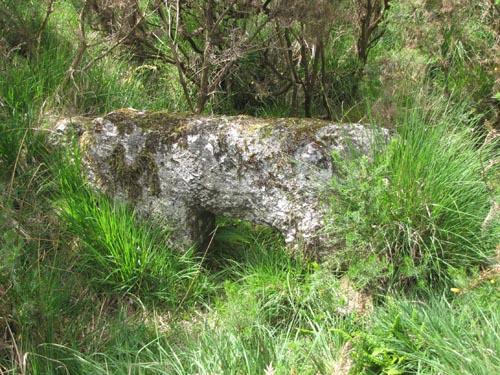 Location: Just beyond the end of the wall and to the south of the track onto the moor from Lud Gate, well hidden in a small gully covered by a thick wall of gorse.

O/S Grid Ref: SX/68241/67339 Longitude/Latitude (Degrees+/-): -3.85884/50.49099

Map location: Click here to view map.

Purpose: This socket stone would have supported the Hayford Cross, but I don't have any information of the original site or purpose of the cross.

Size: The portion of the stone that is showing above ground measures 3 feet 10 inches (1.17 metres) long, 2 feet 2 inches (0.66 metres) wide and 10 inches (0.25 metres) deep. The socket hole is 15 inches (0.38 metres) by 13 inches (0.33 metres).

Information: It can be seen that the socket hole goes right the way through the stone. Although part of the stone is currently hidden in the ground, I get the impression that some of the lower part of the stone has been broken away.

The fact that the cross has the name of 'Hayford' probably relates to the fact that it was sited in the vicinity of the nearby Hayford Hall. This grand old house is reputed to be the inspiration behind Sir Arthur Conan Doyle's book 'The Hound of the Baskervilles' and it still has a stone sculpture of the hound guarding the entrance gates.

I'm not aware of where the original Hayford Cross, that would have been set into this socket, was originally sited or what its purpose would have been. The only reference to the socket stone seems to be that by the Reverend Hugh Breton in his 1931 book 'The Forest of Dartmoor, Part 1 - South East'. It only goes to show how well hidden it is that no-one else appears to have come across it until recently.

The Rev Hugh Breton was the eldest of five children, who was born in Southampton in 1873 and installed as Vicar of Sheepstor on 1st November 1907. He later moved around to other local parishes and would spend his spare time exploring Dartmoor and the surrounding countryside. He made friends with a number of famous Dartmoor personalities such as Sabine Baring-Gould, Richard Handsford Worth and Robert Burnard. He is credited with the restoration of the Rood Screen belonging to Sheepstor Church and, with Richard Hansford Worth, the resurrection of the fallen stones in the Brisworthy Stone Circle. In between, he found time to write a number of well researched books about his beloved Dartmoor.

Our thanks go to Dave Hamnett for bringing this socket stone to our attention.