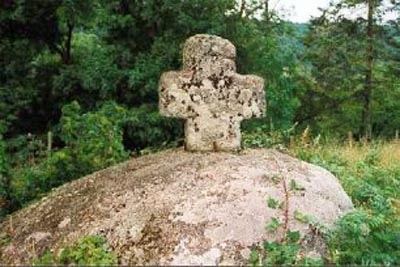 Location: In a field at Higher Combe, about 1½ miles North West of Lustleigh. The field is on the right hand side of the road, from Lustleigh, just before the cottages of Higher Combe are reached.
Please note: The field in which this cross is situated is on private land.

O/S Grid Ref: SX/777/825 Longitude/Latitude (Degrees+/-): -3.73054/50.62933 (approx.)

Map location: Click here to view map.

Purpose: Waymarker.

Size: 2 feet 3 inches (0.69 metres) high. 2 feet 1 inch (0.63 metres) across the arms.

Information: The cross is also referred to as Cross Park Cross, so named after the field in which it currently stands. This position is not likely to

have been its original one as it probably stood somewhere nearby, as a waymarker at the side of the road.
In 1860, the cross was moved from a nearby bank to its current site by Mr Amery, the farmer at Higher Combe. He mounted it on the large granite boulder and fixed it securely in place with four iron clamps. There is some damage to rear of one of its arms and only a short length of its shaft has survived. No-one has been able to trace the whereabouts of the missing lower section of the shaft.