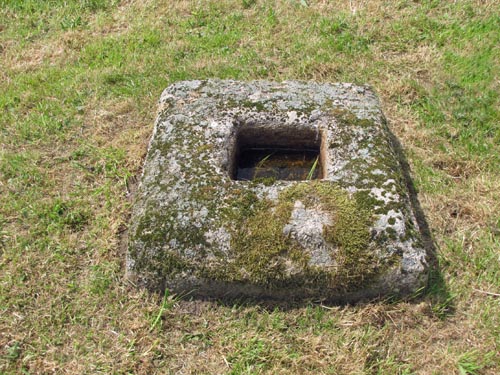 Location: Beside the signpost at the road junction in Horndon.

O/S Grid Ref: SX/52041/80112 Longitude/Latitude (Degrees+/-): -4.09214/50.60191

Map location: Click here to view map.

Purpose: The socket stone would have been used to support a cross in the area.

Size: The socket stone is 2 feet 4 inches (0.71 metres) square and 8 inches (0.20 metres) high. The socket measures 9½ inches (0.24 metres) by 9 inches (0.23 metres) and is 5 inches (0.13 metres) deep.

Information: This well-crafted socket stone is square, with a chamfer running all around the top edge. I'm afraid that I've not been able to discover anything of the history of this stone. However, it is likely to have supported a cross that was used to mark the route to a local church, at either Mary Tavy or Peter Tavy, but I've no clue as to where it was originally sited. It could, of course, have supported a cross from its current position, but I think it more likely that it has been brought here to preserve it from being damaged.


Opposite the signpost and socket stone, the local post box has been built into the stone wall. One of the stones, below and to the right of the post box has a horizontal slot cut into it. In speaking to a local resident, she confirmed that this stone was the top end of a slotted gatepost, which has been reused in the wall. Slotted gateposts were erected in pairs, and the slots in one post were quite a bit deeper than those in the other. The 'gate' would simply have been four or five separate planks of wood, each of which would be slotted into one of the deeper holes and pulled across for the other end to fit into the shallower slot - A simple form of early gate!

Just down the road from the site of the cross base is the Elephant's Nest Public House. Originally, the pub was called the 'New Inn', as it was opened some time later than the 'Black Lion', which was sited further along the lane. During the 1950's the landlord, Charles Ossington, who was a very large rotund man, just about fitted on his stool behind the very small and tight bar area. When customers ordered drinks, he would simply swivel around on his stool and pour the pint or use the optics. There just wasn't room for him to get off his stool and move around to serve the drinks. One day, one of his locals laughed and said that he looked just like an 'elephant sat on his nest' behind the bar. The landlord was so taken by that description he decided that he would change the name of the pub there and then!