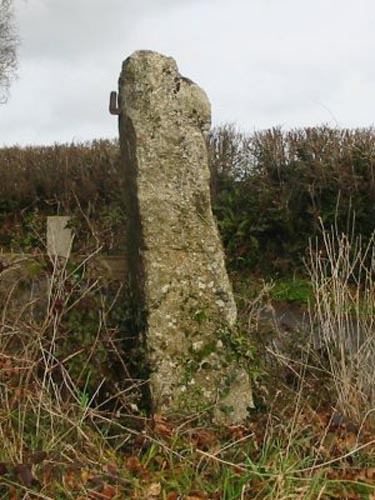 Location:
On top of the bank, on the North West corner of Hook Cross. The crossroads is situated about ½ mile to the North West of the A38, between Ashburton and Bickington.
O/S Grid Ref: SX/77889/72654 Longitude/Latitude (Degrees+/-): -3.72463/50.54086
Map location: Click here to view map.
Purpose: The Cross is likely to have been an ancient waymarker.
Size: The height of the cross measures 4 feet 10 inches (1.47 metres). The shaft is 14 inches (0.36 metres) wide by 11 inches (0.28 metres) deep at the bottom and tapers upwards to 9½ inches wide (0.24 metres) by 11 inches (0.28 metres) deep at the point immediately beneath the remaining arm. The width across the shaft and the remaining piece of one arm measures 11 inches (0.28 metres).
Information: I am unable to obtain any history of this cross and can only, therefore, set down my own observations from my visit to its current site.

The cross was obviously taken from its original site at some point in the past and used as a gate hanger, most probably on more than one occasion. Currently two gate hangers can be seen on the North face and one on the West face of the cross, which leads me to think that it has served as a gate post in at least two locations. From the experience of other Dartmoor Crosses, it is likely that the arms were removed when it was taken as a gatepost. I'm pleased to say that someone obviously recognised it as a cross and it has now been restored to what is, hopefully, its original site.
Although the crossroads are only ½ mile from the A38, the situation is very quiet and rural. The County Council signpost, on the bank beside the cross, points the way to Haytor & Widecombe (West), Sigford (North), Bickington & Newton Abbot (East) and Caton (South).
Although the cross is situated just outside the Dartmoor National Park area, it was decided to include it on our website on the grounds that it is very similar to a number of other crosses situated on this side of the moor.
Our thanks to Sara Knaggs for bringing this cross to our attention.