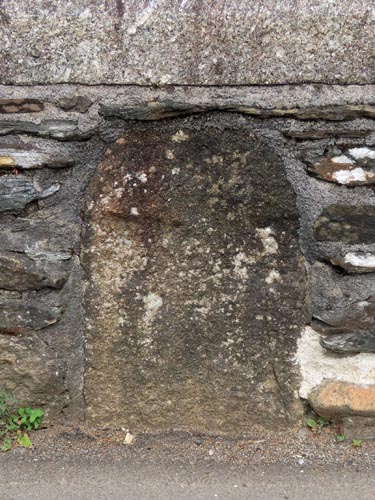 Location: Built into the centre of the North West parapet of the bridge over the river Walkham, which runs through the centre of the village.

O/S Grid Ref: SX/513/699 Longitude/Latitude (Degrees+/-): -4.09928/50.51022 (approx.)

Map location: Click here to view map.

Purpose: Not known.

Size: Roadside, the stone measures 2 feet (0.60 metres) tall by 1 foot 4 inches (0.40 metres) wide. On the riverside face, it measures 3 feet (0.90 metres) tall by 1 foot 4 inches (0.40 metres) wide. The incised cross is on the roadside only and this measures 1 foot 11 inches (0.60 metres) tall and 1 foot (0.30 metres) across the arms.

Information: The River Walkham flows through the centre of Horrabridge and the bridge is situated right next to the junction of the two main streets of the village. It is a narrow bridge with two 'V' shaped places built into the parapet, to allow pedestrians to stand aside for cars to pass. Only one vehicle at a time can cross the bridge and it can get quite busy with cars waiting to cross from three different directions. It is thought that the bridge was built in the 14th century, which would make it one of the oldest in Devon that is still open to traffic.

The incised stone is built into the North West parapet of the bridge and the depth of the stone goes right the way through the wall. Roadside, the stone goes down below the level of the road.

Horrabridge is a busy and vibrant village. Upstream from the bridge, there is a salmon leap. This has given its name to the nearby Public House, the 'Leaping Salmon' and also to a private house, which goes by the name of 'Salmon Leap'. Downstream, there is a pool in the river, below a weir, where the children often swim and play during the hot summer months.