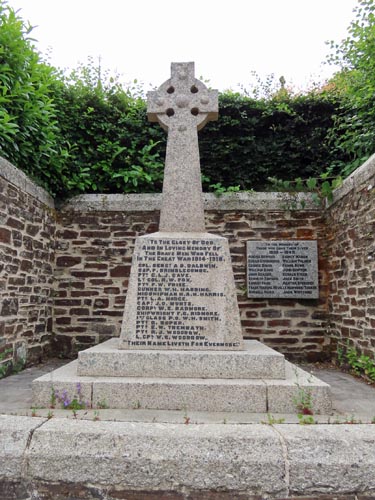 Location: Built into the churchyard wall at the junction of the road leading down to the centre of the village, from the direction of Walkhampton.

O/S Grid Ref: SX/512/696 Longitude/Latitude (Degrees+/-): -4.10010/50.50791 (approx.)

Map location: Click here to view map.

Purpose: Memorial to all those in the village who lost their lives in both World Wars.

Size: 4 feet 11 inches (1.50 metres) tall. 2 feet (0.60 metres) across the arms.

Information: This cross is set back into the churchyard wall on a rounded corner at the junction of two roads. It is set up on a double plinth of stones. The shaft is set into a massive tapered granite stone for its socket. This is a modern cross of Celtic design.

The cross was erected as a memorial to those villagers who lost their lives in both World War I and II. The plaque on the socket stone lists those who were killed in the First World War. Those who lost their lives in the Second World War are listed on a separate plaque which is fixed to the churchyard wall, behind and to the right of the cross.

For a town that has stood for several centuries, the church is relatively modern, having been built in 1893. It is dedicated to St John and is thought to stand on the site of a former chapel of ease.