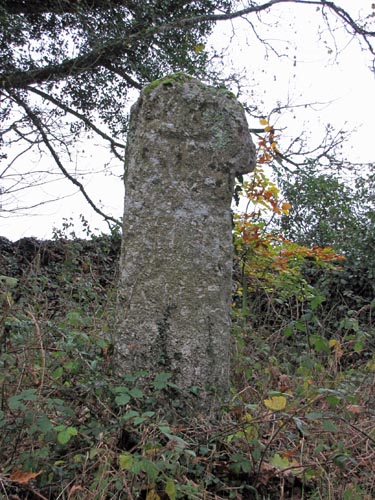 Location: Take the Chagford road out of Moretonhampstead, turn right into the narrow lane just beyond the Hospital and then the first left. The cross is at the side of the road about 200 yards past Howton Farm.

O/S Grid Ref: SX/74101/87195 Longitude/Latitude (Degrees+/-): -3.78300/50.67076

Map location: Click here to view map.

Purpose: Waymarker to the church at Moretonhampstead.

Size: 4 feet 11 inches (1.50 metres) tall. 1 foot 9 inches (0.53 metres) across the arms.

Information: This is another cross that has been badly treated in the past, as it now has one arm and its head missing completely. A secondary cross, which measures 11 inches tall and 7 inches across the arms, has been incised into the front face of the cross.
William Crossing wrote that a Dr Stephens discovered the cross being used nearby as a gatepost. In addition to supporting a gate as we know it today, there is evidence that it has also been used to support an earlier type of gate, consisting of a number of horizontal wooden bars. These would have fitted into slots in the back of the cross, as can be seen in the photo opposite. The other end of the bars would have fitted into inverted 'L' shaped slots in the other gatepost, in order that they could be lifted out, as required.
Dr Stephens raised the question of this cross with Mr Charles Cumming, a resident of Linscott, who arranged for it to be reset at, what is thought, to be its original site. Harry Starkey recorded that, in 1957, he found it had fallen over but that it was restored once again shortly after.