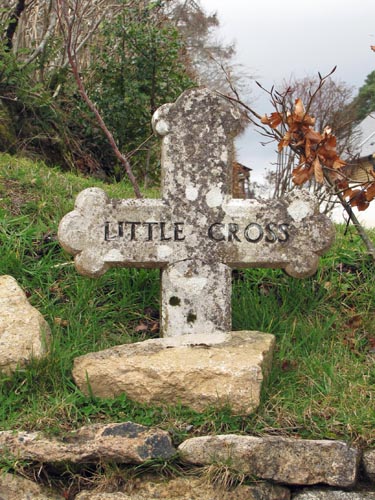 Location: At the entrance to Little Cross Cottage, to the north of Holne Village.

O/S Grid Ref: SX/70440/69702 Longitude/Latitude (Degrees+/-): -3.82867/50.51273

Map location: Click here to view map.

Purpose: Ornamental cross showing the property name.

Size: 1 foot 9 inches (0.53 metres) tall and 1 foot 8 inches (0.51 metres) across the arms. The shaft is 5 inches (0.13 metres) wide and 4 inches (0.10 metres) deep.

Information: This cross is currently set on the bank at the entrance to the property 'Little Cross Cottage', on the road from Holne Bridge to the Venford Reservoir. Although this is one of the smaller crosses on the moor, it is quite ornate with its head and end of its arms ending in a clover pattern. There is also a delicate chamfer to the shaft and arms. The entrance to the property has recently (2018) been landscaped, at which time the cross was moved from the side of the entrance to its current position on the bank in front of the house.