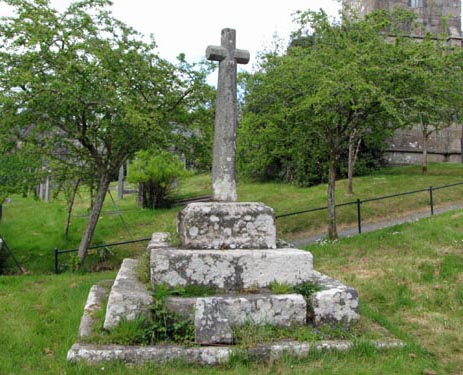 Location: Just inside the main gate to the churchyard.

Grid Ref: 509 787 Map location: Click here to view map.

Purpose: Village Cross

Size: 6 feet (1.82 metres) tall. 1 foot 6 inches (0.46 metres) across the arms.

Information: Although, due to its location, this may appear to be a churchyard cross, this is not the case. The site was once an open space within the village but, in 1880, it was decided to extend the churchyard. As a result, the village cross became included within the church boundary.

On the face of it, this elegant cross looks as though it is in good condition and has been well cared for. However, all is not as it would seem. The socket stone and those used in the pedestal are probably the only original parts of the cross. It doesn't appear as though the shaft is original, as it has been fashioned from Roborough Down stone, rather than the granite used for the socket and pedestal. Also the base of the shaft is slightly smaller than the socket, so it is quite probable that this is the shaft of another cross that has been reused.



The head and arms are relatively modern and were made to replace the originals, which were thought to have been lost. Since its restoration, part of the original head and arms have come to light and have now been placed on one of the steps beneath the cross.
The pedestal is of three steps, composed of large rectangular blocks, that have been cemented into place. The socket stone is square, with a chamfered top edge. The sides of the socket stone have been decoratively engraved in relief, with a different design on each face. The tapered shaft is square at the bottom and octagonal above. The head and arms are also octagonal but it will be noticed that these are slightly out of proportion, being rather small for the shaft.

Whilst visiting this cross, spare a thought for William Crossing, the doyen of Dartmoor walkers and writers. Crossing and his wife, Emma, spent the last years of their lives in Mary Tavy and were both buried in this churchyard, to the East of the church. The house that they lived in is on the A386, the main road through Mary Tavy, and now bears a plaque to commemorate its former inhabitants. The house is appropriately named 'Crossing'.
There are a couple of interesting old tombstones fixed to the church wall. The inscription from one of these, dated in 1772, reads as follows:
Here Lyeth the Body of
John Hawkins Blacksmith son of Thomas
Hawkins of ? (Place not legible)
Buried April 12th 1772 Aged 28
Here Buried were some years before
His two Wives and five Children more
One Thomas Nam'd whose Fate was Such
to lose his Life by Wrestling much
which may a warning be to all
how they into Such Pastimes fall
Elizabeth and William and
Hannah and yet Pray Understand
a second nam'd Elizabeth