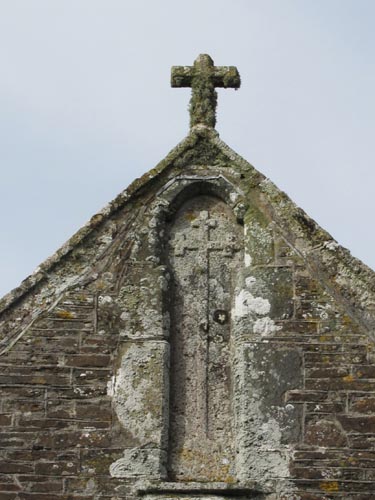 Location: There are three crosses on the roof of Meavy Church and another one built into the wall of the transept.

O/S Grid Ref: SX/54040/67225 Longitude/Latitude (Degrees+/-): -4.05886/50.48660

Map location: Click here to view map.

Purpose: Church crosses.

Size: Not known.

Information: This octagonal cross is set on the apex of the transept. Immediately below the cross and above the window a large slab has been set back into the wall. This slab bears a cross carved in relief on its surface. The head and arms of the relief cross are unusual in that they each have a bar across them. This gives the appearance of three small crosses all converging, from different angles, at the face of the main cross.

On the apex of the porch roof is the second of the roof crosses (SX/54047/67224), which is also octagonal in design. The head and both arms have a double collar around them and there is a further collar low down around the shaft.
This, the third of the crosses on the church roof (SX54033/67220), is set on the apex of the aisle and is octagonal in shape.

The origins of the church date back to Norman times and records show that it was first consecrated in 1122. However, the church was rebuilt in the 15th century and there is now very little left of the original. One exception is the north pillar of the chancel arch, which still shows traces of Norman carvings.
Immediately outside the main gate of the churchyard stands the ancient Meavy Oak, which is believed to have been planted at the same time as the original, Norman, church was built. Further details of this can be found on our page for the Meavy Village Cross, which stands beneath the shade of this magnificent tree.