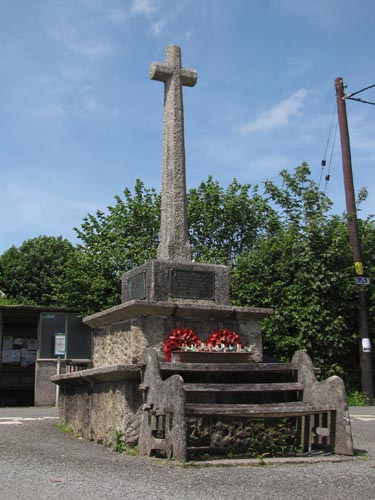 Location: At the top of Station Road, North Brentor.

O/S Grid Ref: SX/48120/81449 Longitude/Latitude (Degrees+/-): -4.14805/50.61292

Map location: Click here to view map.

Purpose: The cross serves as a memorial to those villagers who lost their lives in both World Wars.

Size: The cross is 9 feet (2.74 metres) tall, with the base of the shaft being 12 inches (0.30 metres) square. The width across the arms measures 24 inches (0.61 metres) and the arms have a depth of 8 inches (0.20 metres).

Information: This elegant cross stands in a square socket on two large plinths. The tapered shaft is square at the base and chamfered above on all four edges, as are the arms. The base is chamfered all around its top edge and has metal plaques bolted onto three of its faces, to commemorate World War I. The northern face has black metal lettering fixed direct to the stone to commemorate the one local person who lost his life in World War II. The socket stone measures 3 feet (0.91 metres) square and is 20 inches (0.51 metres) high.

Both plinths are made up of large granite blocks, with the lower one measuring 6 feet 8 inches (2.03 metres) square and 26 inches (0.66 metres) high. The upper plinth is 4 feet 6 inches (1.37 metres) square and 19 inches (0.48 metres) high. Both plinths are topped off by an overlapping granite surround. A bench has been sited against the southern face of the cross to provide a fitting place to rest a while and think of those who gave their lives for our freedom.


A short way down Station Road from the cross is a well, with a granite surround, set back into the wall. This was the main source of water for the villagers prior to the village being connected to the mains water supply in the 1920's. Just below the well there is a spring outlet that is capped off by a large pointed granite stone. The stone is inscribed 'T. R. S. A.' along one edge, with the date of 1893 along another and a large 'M' inscribed into one of the sloping faces. I've not been able to discover what the letters might represent, but this outlet must have some connection with the old well that is just a few yards further up the road.