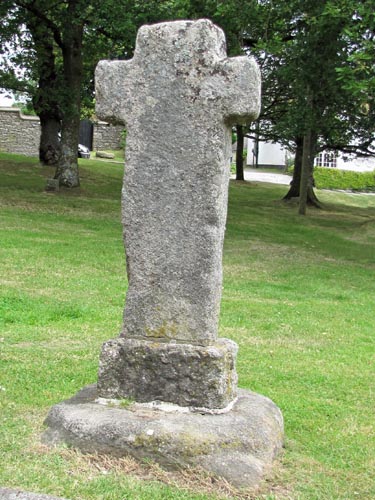 Location: Amongst the trees in the picturesque setting of the village green at North Bovey.

O/S Grid Ref: SX/74001/83888 Longitude/Latitude (Degrees+/-): -3.78329/50.64101

Map location: Click here to view map.

Purpose: Village Cross.

Size: 4 feet 2 inches (1.26 metres) tall. 2 feet 2 inches (0.65 metres) across the arms.

Information: The socket stone was not made for this cross but is thought to have been in use for a much earlier and now vanished village cross. The socket was made to take a rectangular shaft with chamfered corners. Whereas, the current cross has a plain rectangular shaft that is quite a bit smaller than the socket.

The current cross was found during the 19th Century in use as a footbridge across a small stream at the bottom of the village. It is thought that it originally stood near the spot where it was found to mark the track leading to a ford across the river Bovey. This restoration was arranged by the Rev. J.P. Jones, curate of North Bovey, in 1829.

The village green, or 'playstow' as it used to be known, is in the centre of the village and surrounded by a number of very old traditional white-washed cob and thatched cottages. Below the green stands the 15th century church, dedicated to St John the Baptist and with a clock face which bears the words 'Thy Kingdom Come'. Partially hidden at the top of the green is the atmospheric village pub, The Ring of Bells. There are a number of established trees on the green, each one with a plaque at its base to commemorate the important events that have taken place over time. At the top of the green is a nicely placed park bench on which to sit and contemplate the tranquil scene below whilst, just below the bench, is the now redundant village pump and granite trough which once supplied water to all the houses grouped around the green.