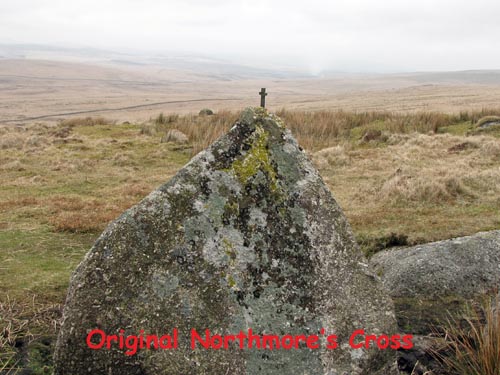 Location: Cemented to the top of a conical shaped boulder on Hand Hill.

Grid Ref: As it was Bill Northmore's express wish that the exact location be kept as a surprise for those walking on the moor, we are respecting that wish by not publishing the exact grid reference.

Map location: See above

Purpose: Personal Cross.

Size: 4¼ inches (11 centimetres) high; 1½ inches (4 centimetres) across the arms; ½ inch (1.5 centimetres) thick.

Information: This skilfully crafted brass cross was fashioned out of the propeller of an old ship. It was erected in its current position, in 1980, by Mr Bill Northmore, in gratitude for a lifetime of enjoyment from living and working on the moor. Mr Northmore was born at Lovaton, near Meavy, where he spent his working life as a farmer. His passion for Dartmoor is such that, on retirement, he is happy to spend hours on end passing on his knowledge and anecdotes to those who are privileged to know him.

This is summed up in a letter written by Mr Northmore, the following excerpt from which was passed on to me in a recent e-mail: "If you happen on this tiny object think on the 70 odd years I have been privileged to ride and ramble over that which I have come to regard as my very own".

Whilst pausing at this spot it is interesting to ponder on the thousands of sea miles that might have been covered by this piece of propeller shaft and all the distant and exotic places it may well have visited. However, like Mr Northmore, it will have earned its retirement and what better place to spend it than here in the heart of Dartmoor.

On a visit to this cross in October 2016, I was very sad to receive confirmation that this cross is now missing from its position on top of the triangular rock. I had received some recent information that it had been vandalised at some time during 2012 but found it difficult to believe that anyone would want to destroy this tiny cross, especially when one considers all the work that went into making it in memory of a true lover of the moor. The thumbnail photo, to the right-hand side of this page, shows the remains of the shaft which appears to have been roughly broken off just above the point at which it is affixed to the rock.