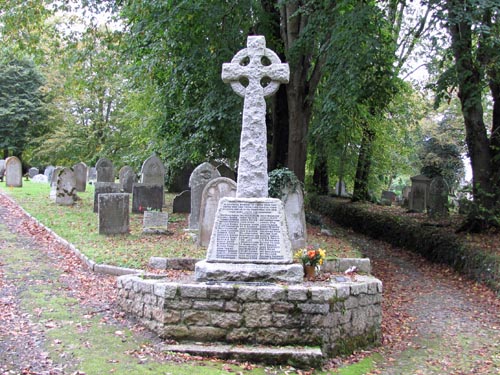 Location: In the centre of the path just inside the east gate to the churchyard.

O/S Grid Ref: SX/58258/95123 Longitude/Latitude (Degrees+/-): -4.01010/50.73837

Map location: Click here to view map.

Purpose: War Memorial

Size: 6 feet 8 inches (2.03 metres) tall. 2 feet 8 inches (0.81 metres) across the arms. The shaft, at the base, measures 14½ inches (0.37 metres) wide by 8½ inches (0.22 metres) deep.

Information: This is a relatively modern cross, roughly fashioned from granite and of Celtic design. The tapering shaft sits on a tall tapering granite base, which measures 3 feet 3½ inches (1.00 metres) wide by 2 feet 10 inches (0.86 metres) deep at the bottom and 2 feet 5 inches (0.74 metres) by 2 feet (0.61 metres) at the top. It is 2 feet 8 inches (0.81 metres) high. The base stone is set on a plinth, which measures 4 feet (1.22 metres) by 3 feet 6 inches (1.07 metres) and 9 inches (0.23 metres) high. A stone wall has been erected around the cross, to bring it up level with the area of grass and graves behind. The immediate area around the cross has been infilled with gravel, into which has also been set three little flower troughs.

The inscriptions have been made on smooth surfaces, slightly set back into three faces of the base stone. That on the front (eastern) face is headed:
In grateful memory of those from this parish who gave their lives for God, their Country, and us, in the Great War 1914-1918. "Their name liveth for evermore".
Below this are the names of the 66 men who lost their lives in the First World War. Both the northern and southern faces of the cross are headed '1939-1945' and below each are 19 names of men who died in the Second World War.