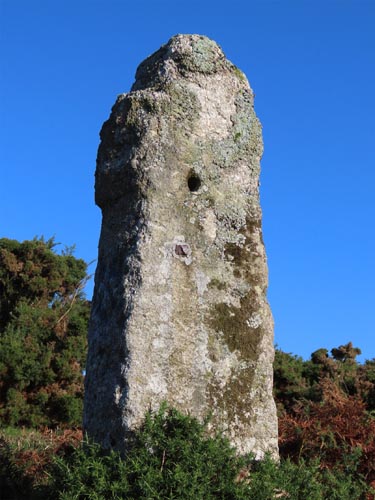 Location: Beside the Ashburton to Two Bridges Road, at the junction with the road leading to Sherwell.

O/S Grid Ref: SX/68499/73511 Longitude/Latitude (Degrees+/-): -3.85738/50.54653

Map location: Click here to view map.

Purpose: The cross was originally erected as a waymarker from the outlying farms and villages to the church at Widecombe.

Size: 5 feet 2 inches (1.55 metres) tall. 1 foot 8 inches (0.50 metres) across the arms.

Information: This cross has been very badly treated in the past. William French, who was a farm hand at the nearby Town Farm, Leusdon, reported that the cross was taken by his boss, Thomas Hext, in about 1825. It was carried the two miles to his farm on a sledge drawn by four oxen. On arrival, the arms were knocked off and it was set up in the entrance to the farmyard as a gatepost. Holes were drilled in the shaft in order to fix the hinges for the gate.

Fortunately, the cross was reclaimed at some time during the 1950ís and has been set up once again very near to its original position.
During the Napoleonic Wars, the Prison at Princetown was built, by Sir Thomas Tyrwhitt, to house the French prisoners of war. Although normal soldiers were confined to the prison grounds, the French Officers were allowed outside the grounds on parole. This cross, although fully seven miles from Princetown, was fixed as one of the points which marked the limit of their freedom. It is also interesting to note that some officers were billeted in towns and villages around the moor and these were confined to a maximum distance of only 1 mile from their base.