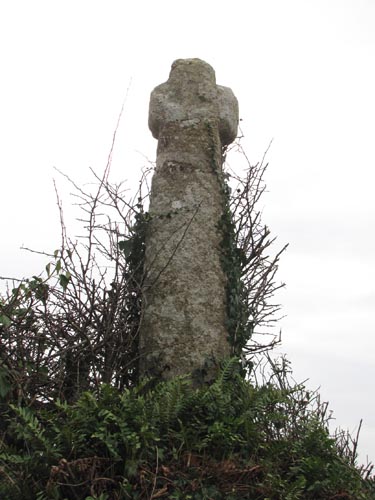 Location: At a staggered road junction about ¾ mile east of South Tawton. The cross sits high up on top of the hedge beside a field gate.

O/S Grid Ref: SX/66254/94416 Longitude/Latitude (Degrees+/-): -3.89660/50.73391

Map location: Click here to view map.

Purpose: Waymarker showing the way from outlying farms and hamlets to the church at South Tawton.

Size: The main cross is 5 feet 7 inches (1.70 metres) tall and 1 foot 2 inches (0.35 metres) across the arms. The incised cross is 7 inches (0.18 metres) high and 7 inches (0.18 metres) across the arms.

Information: This is another ancient cross that has been very badly treated over the years. Mr Ormerod reported, at some time during the 19th Century, that only a portion of the shaft was to be seen and that the head and arms were missing. William Crossing, however, found the missing upper part of the cross lying amongst some stone rubble in a nearby hedge. Although the two parts were joined together, it was later found again, by Mr Masson Phillips, lying on top of the hedge. It was finally restored to its present position by the Dartmoor Preservation Society in 1951.

The cross is very rugged looking, with short arms. It's difficult to tell whether it was made this way or if the arms have been shortened during one of the occasions when the cross has been thrown down. The incised cross, on the Eastern face, is square and the incision, at 1½ inches, is unusually broad. The join where the head has been fixed onto the shaft is easily visible and has obviously not been as professionally carried out as many of the other Dartmoor crosses.

Oxenham Farm lies about 250 yards South East of the cross. At the entrance of the drive to the farm an area of ground has been raised up, lined with a dry-stone wall and with an oak tree planted in the centre. Built into the wall are two stones which have been inscribed with 'Oxenham Manor'. The present farmhouse is a relatively modern building erected on the site of the ancient Oxenham Manor, to which the interesting tradition of the 'White Bird' is attached. It seems that a white bird, or one with a white breast, would often appear to forewarn the Oxenhams of the death of a member of the family. The bird would always appear prior to the death of the head of the family. Although the bird has appeared many times in the past, there are documented records of three such occurrences, in the years 1618, 1635, with the latest being found in 1873.