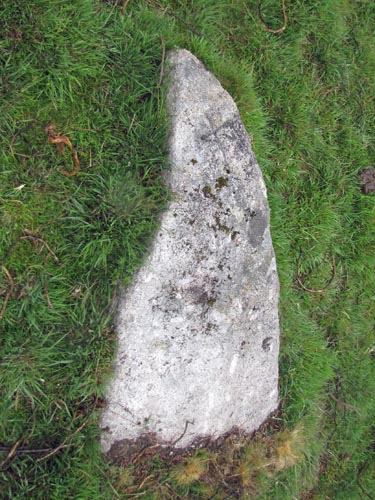 Location: From the largest stone in the hut circle, which is just to the north of the highest point of Riddon Ridge, walk 60 paces on 040º to a triangular rock.

O/S Grid Ref: SX/66641/76673 Longitude/Latitude (Degrees+/-): -3.88472/50.57453

Map location: Click here to view map.

Purpose: Not known.

Size: The incised cross measures 7½ inches (0.19 metres) high by 5½ inches (0.14 metres) across the arms.

Information: The incised cross is set into the upper face, and at the pointed end, of a triangular shaped rock. The rock measures 4 feet (1.22 metres) long, 13 inches (0.33 metres) high and 2 feet 6 inches (0.76 metres) wide at the base. The stone is pointing more or less due west (274º). To date, I've not been able to find out who was responsible for carving out this cross or why.