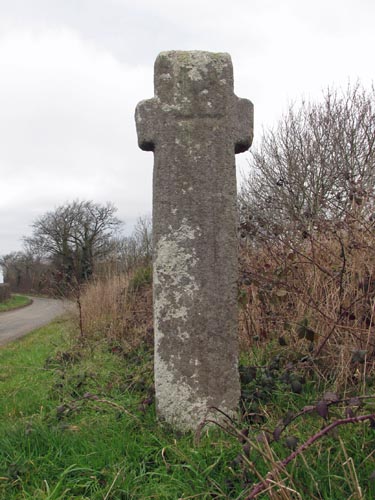 Location: Beside a country lane about 1¼ miles east of South Tawton. The cross used to stand at a junction of this road, with one branching off to the village of North Tawton. However, when the new A30 dual carriageway was built, the road layouts were changed and this junction no longer exists.

O/S Grid Ref: SX/67218/94158 Longitude/Latitude (Degrees+/-): -3.88285/50.73181

Map location: Click here to view map.

Purpose: Waymarker showing the way from outlying farms and hamlets to the church at South Tawton.

Size: 6 feet 3 inches (1.90 metres) tall. 1 foot 10 inches (0.55 metres) across the arms.

Information: This cross has a Greek Cross incised in each face of its head. On the eastern face (main photo) the cross is 11 inches (0.28 metres) tall and 9 inches (0.23 metres) across the arms. That on the western face (thumbnail) is 10 inches (0.26 metres) tall and 9 inches (0.23 metres) across the arms.

The site of this cross was once a peaceful place, in the back of nowhere, where the only sounds heard were those of the country. However, with the A30 dual carriageway now passing by only yards away, the tranquillity has been spoilt by the continual roar of traffic from just over the hedge.