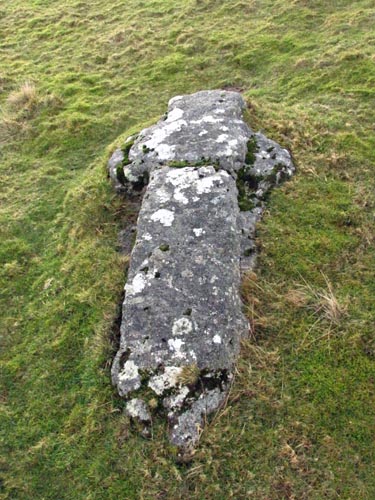 Location: On Rippon Tor, about 30 yards to the north-west of the Summit Cairn.

O/S Grid Ref: SX/74662/75578 Longitude/Latitude (Degrees+/-): -3.77114/50.56646

Map location: Click here to view map.

Purpose: Not known.

Size: 6 feet 8 inches tall. 2 feet 3 inches across the arms.

Information: This cross has been carved, in relief, on a natural granite block.

There has, over the years, been much speculation as to the purpose of this cross. Mr Spence Bate suggested that the cross was deliberately carved in relief on the block. This would have been during the Medieval period when superstitions held a lot of sway. With several Bronze Age cairns around, housing the remains of human bodies, it was left 'in situ' to ward off evil spirits. William Crossing was also of the opinion that it was never intended that the cross be separated from the base rock, thus agreeing with Mr Spence Bate over its purpose.

However, Mr Masson Phillips was of the opinion that it was being carved out of the boulder prior to it being separated, carried off and set up in another location, probably as a waymarker. This idea, and the cross, was abandoned when the rock was found to be weak and the arm and the base of the shaft was damaged during the making.

Whilst not dismissing either of the foregoing reasons, Harry Starkey suggests a third possibility in that it could have been carved in this spot as a memorial to someone who had died nearby.