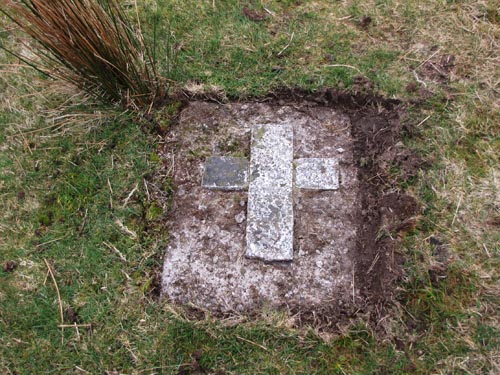 Location: Beside the Prison Leat, north of Rundlestone.

O/S Grid Ref: SX/57580/75623 Longitude/Latitude (Degrees+/-): -4.01220/50.56295

Map location: Click here to view map.

Purpose: Memorial to an employee of the Dartmoor Prison Farm who died at this spot.

Size: The cross measures 13 inches (0.335 metres) long by 11½ inches (0.29 metres) across the arms and ¼ inch (0.01 metres) deep. The shaft is 3¾ inches (0.095 metres) wide and each arm is 3¾ inches (0.095 metres) long by 3½ inches (0.085 metres) wide. The concrete base on which the cross is set measures 21 inches (0.54 metres) by 16 inches (0.40 metres).

Information: This little cross, laying flat on the ground, is made up of three sections of granite set into a concrete base. It was placed here, beside the Prison Leat, as a memorial to Prison Farm employee Cyril Sinclair. One day, in July 1983, 54 year-old Cyril was tasked to clear a section of the Prison Leat to keep the supply of water flowing to the Prison Farm when he was caught up in a storm and struck by lightning. Later, when it was realised that he hadn't returned from his work a search party was sent out to find him. Sadly, by the time they reached him, he had already succumbed to his injuries and was dead.

It would appear as though this disproves the theory of lightning not striking twice in the same place as, some time before, a group of Prison Farm bullocks were struck down and killed by lightning in the same spot. Such was the interest in this event at the time that photos were taken of the dead bullocks, which were then turned into postcards and sold.