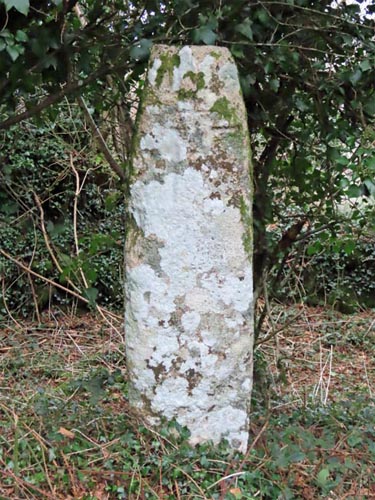 Location: Beside the road, leading from Chagford to Middlecott Farm, about ¼ mile North West of Middlecott Farm.

O/S Grid Ref: SX/714/864 Longitude/Latitude (Degrees+/-): -3.72400/50.62242 (approx.)

Map location: Click here to view map.

Purpose: As a waymarker for the track from Moretonhampstead and North Bovey to Chagford.

Size: 5 feet 8 inches (1.73 metres) tall. 12 inches (0.30 metres) wide at the top, 1 foot 6 inches (0.46 metres) across at the bottom. The relief cross is 1 foot 9 inches (0.53 metres) tall and 1 foot 1 inch (0.33 metres) across the arms.

Information: : It is thought that this cross dates back to Saxon times (somewhere in the period from the 7th to 9th century). It is unique among Dartmoor crosses in that it is a plain pillar of granite, with a Latin Cross cut in relief on the front of the stone. This relief cross has, in itself, another cross incised into its head.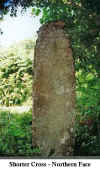 A Latin Cross, 16 inches high and 12 inches across the arms, has been incised into the back of the stone.
In 1873, the cross was taken from its site and put into use as the base for the water pump at Middlecott Farm. This was put right in 1900 when, under the supervision of Major Yolland, it was restored to its former site.