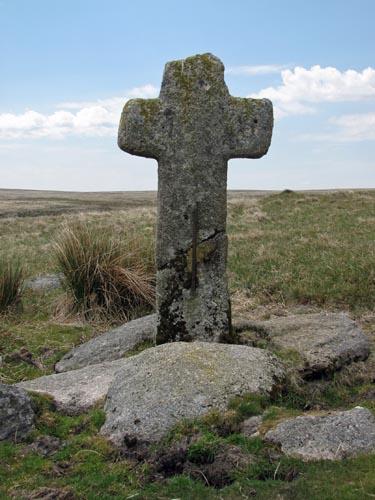 Location: Down Ridge, up the hill from Skir Ford, which crosses the O'Brook.

O/S Grid Ref: SX/65473/71426 Longitude/Latitude (Degrees+/-): -3.89931/50.52710

Map location: Click here to view map.

Purpose: One of a number of crosses that marks the route of the Monks' Path. This is the ancient name given to the track that links the Buckfast Abbey with those at Tavistock and Buckland. This path takes a more northerly route than the more commonly known Abbots' Way.

Size: 4 feet 11 inches (1.50 metres) tall. 2 feet 4 inches (0.70 metres) across the arms.

Information: William Crossing found this cross lying on the ground in 1883 and arranged for it to be re-erected by Samuel Smith, who was a farmer at Hexworthy. It has since fallen again, had the shaft repaired by the use of an iron clamp and been fixed more securely.