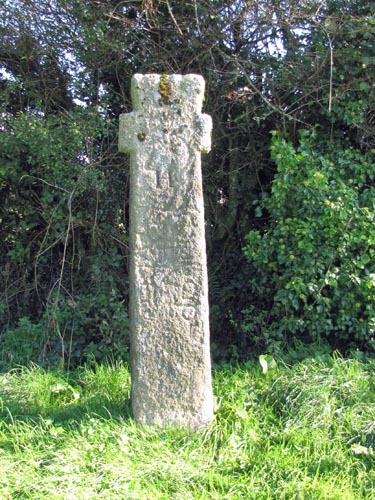 Location: By the side of a slip-road near the junction of the A30 with the A386 (Okehampton to Tavistock) road. From the main junction, take the A386 towards Tavistock and then the first left. This will take you back in the direction of the junction and the cross will be found on the right hand side of the road.

O/S Grid Ref: SX/54552/91555 Longitude/Latitude (Degrees+/-): -4.06118/50.70538

Map location: Click here to view map.

Purpose: It would appear that this was a 6th century Christian memorial stone that has been turned into a wayside cross.

Size: 7 feet (2.13 metres) tall. 1 foot 8 inches (0.51 metres) across the arms.

Information: The shaft of the cross bears a Romano-Christian inscription in three vertical lines. Although now difficult to decipher, it is thought to read:

In more recent times the cross has had a letter incised into each face of the shaft, to show the direction to each of the following towns: H (Hatherleigh), O (Okehampton), T (Tavistock) and L (Launceston).