Location: Inside the lychgate to the churchyard, take the path which goes around to the left and the cross shaft is set up on the bank on your left.

O/S Grid Ref: SX/667/907 Longitude/Latitude (Degrees+/-): -3.88801/50.70127 (approx.)

Map location: Click here to view map.

Purpose: Not known.

Size: 3 feet 5 inches (1.05 metres) tall. 12½ inches (0.32 metres) wide.

Information: All that remains of this cross is the shaft, set into a square base. Nothing is known of the whereabouts of its head and arms. The bottom 11 inches of the shaft is square and it is chamfered above. The base stone is 2 feet 6 inches (0.77 metres) wide by 2 feet 7 inches (0.80 metres) deep. The top of the base is about 6 inches (0.15 metres) above the ground. There is a shallow hole drilled into the face of the shaft, towards the path, which looks as though it might have been started for a gate hanger, but not completed.

The shaft was found, built into one of the walls of the farm buildings, during renovation work at Throwleigh Barton in 1977. It was by kind permission of the owners, Mr and Mrs Hodgson, that the shaft has been erected at its current site. A small brass plaque, screwed to the edge of the base stone, gives a brief outline of its history:
Ancient cross shaft
found during
restoration work at
Throwleigh Barton
1977

On a small patio around the left hand side of the church, just past the main entrance, there is what appears to be another short section of a cross shaft. This is just the base of the shaft, which is square for the lower 9 inches and chamfered above. It measures 1 foot 4 inches (0.40 metres) tall, 1 foot 4½ inches (0.41 metres) wide and 1 foot 6 inches (0.45 metres) deep.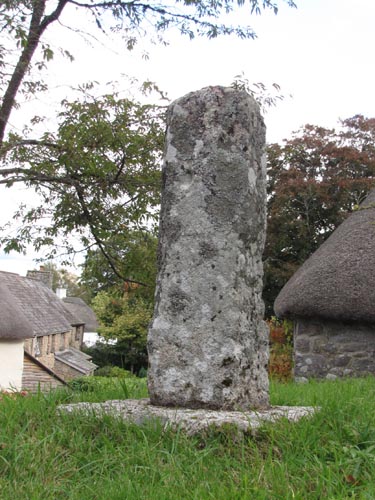 I have not been able to find out where it came from or what has happened to the rest of the cross.
Behind this stone and leaning up against the church wall are three very old tombstones. The right hand one is fairly plain. The left hand one is made from granite, is very old and is almost in the shape of a cross. However, the central one is of most interest. It is made of slate and has an oval Egyptian type head engraved at the top, with large wings coming out each side from under the chin. The inscription, below the head, reads as follows:

(The letters shown in brackets are missing off the edge of the stone and have been assumed. Where the letters TH appear together, the vertical line of the T is shared with the left hand vertical line of the H. Each single word has a dot between it and the next word).

There is a fine stone porch covering the main entrance to the church. Inside the porch and resting on one of the wooden benches is a stone with two parallel lines engraved across it, forming a right angle. This stone is sure to have some significance, but I'm afraid that I have been unable discover what it is. Over the porch, a slate sundial is attached to the wall at a slight angle. This is probably to ensure that it shows the correct time and it was certainly accurate on the day of my visit. The plaque shows that it is: